Yes, you could top up your tan under the tubes at a salon and get the wet-look with hair gel, but this is Sydney - we have beaches for that kind of thing.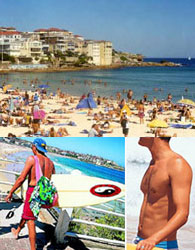 Peak sand season is in the summer months of December to February. The ocean's usually still warm enough for frolicking up to April, and even in the autumn and winter months you'll still find dedicated body-toasters tucked into sheltered spots around the rocks of the harbour and ocean shoreline on sunny days.
There are mouth-watering bods in tight little suits on most of the beaches around the city, but the big gay scenes are at the city's official nude beaches. The most popular is Obelisk Beach, on Middle Head on the northern side of the harbour. (And let's avoid any further references to heads, obelisks and other phallacies.)
It's easily accessible by public transport - take a bus or taxi through Mosman right to the military base at the end of Middle Head Road (love those boys in uniform…). There's limited parking available. A walking track to the left leads to Cobblers Beach, which is the family-friendly nude beach. Just along Chowder Bay Road to the right you'll find the equally pretty Obelisk Beach, accessible by steps down from the road. It's a pretty spot with lots of rock ledges for toasting in the sun.
There are no toilets and no beach kiosk, but on summer weekends the ice-cream boat pulls in two or three times a day. He sells sandwiches as well, and if you ask him nicely he might pick up a couple of beers for you on his return run.
Next big favourite would be Lady Beach (or Lady Jane Beach), the northernmost beach on the southern headland of the harbour, just around the corner from Camp Cove .(Yes, these names are for real.) You can get a bus to Watson's Bay, or drive along Cliff Street to the limited parking at Camp Cove, which despite its name is straight, and yuppie. A 10-minute walk along a track gets you to the legal nudity of Lady Beach. It's a mixed crowd, perhaps a third to half gay, and not big - get there late on a sunny weekend and you'll have trouble finding towel-space. Like Obelisk Beach, there are no facilities.
---
Tamarama Beach, sometimes known as "Glamarama" by the body-beautiful, is an ocean beach in-between Bondi and Bronte in the eastern suburbs. It's accessible by public transport, or along the cliff-top walk from Bondi. It's not a nude beach, but because the surf is fairly risky and there's limited parking, it's not a big family beach. There are toilets and showers, and the beach kiosk sells good food and coffee, which means that, come mid-week, this is a seriously buffed and beautiful scene.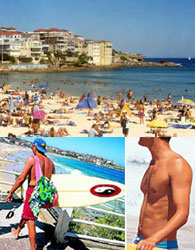 Closer to the centre of town, Redleaf Pool in the chi-chi suburb of Double Bay (just off New South Head Road) is a pretty, shark-fenced pool (dating from the days when sharks were common in the harbour) with a boardwalk around it and two floating diving platforms. The eastern end of the beach tends to be the gay hangout, with beautiful boys sunbaking on the pontoon, while the western pontoon is given over to rowdy dive-bombing kids. There's a grassy area offering a few patches of shade under the trees, a toilet block and a not-too-flash kiosk.
For girls, going topless is acceptable on pretty well all Sydney beaches - to find the singles scene just pick the opposite end of the beach to any of the kids' rock-pools. The women-only pool at Coogee (technically called McIver Baths, but known to everyone as "the women's pool") is popular with the older, skirted-swimsuit brigade, who like to escape the body fascism of the main beaches and pools, but is also a popular scene for gay girls. It's a seawater lap pool carved out of the rocks just south of Coogee Beach, which is easily accessible by public transport.
All swimmers at Sydney beaches need to bear in mind that the surf at the ocean beaches can be treacherous. If you swim outside the safe area between the red-and-yellow flags you might get rescued by a gorgeous lifesaver on his surfbaord - or you might never make it back to your beach towel. And harbour beaches like Obelisk and Readleaf can be polluted by stormwater, and are best avoided for a few days after heavy rains.