If you've been a fan of HTC all this while, you won't be surprised to find out about the HTC One X+. That's because this isn't the first time that HTC has upgraded one of its handsets even before the original model has been in the market for a year.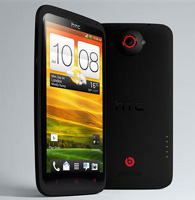 We saw that last year with the HTC Sensation and Sensation XE, and the new HTC One X+ is the upgrade to the HTC One X that comes with a faster processor, a new 1.6-megapixel front camera as well as a slightly larger 2,100mAh battery.
Besides the hardware tweaks, the smartphone features new red accents as well as a bigger Beats logo at the back. Otherwise, the One X+ is exactly the same as the One X when it comes to the design and build quality.
Editor's Note
As the HTC One X+ is similar to the HTC One X in terms of design and most features, we'll only be testing the new front camera as well as the performance in this review. Our ratings for the design will remain the same, while features and performance have been tweaked. You can read the full review of the HTC One X here.
Features
The biggest feature change on the One X+ besides the faster Nvidia Tegra 3 processor is a new 1.6-megapixel wide-angle front camera. It definitely takes much better pictures compared with the older One X and One XL models. The faster processor also contributes to a faster rear camera--in burst mode, the One X+ consistently took a shorter time to finish taking 20 shots as compared with the One X and One XL.