According to press reports, Moscow police arrested more than 30 people for trying to hold two unauthorised gay-rights demonstrations in the capital on Saturday. The Associated Press quoted a police spokesman, Maxim Kolosvetov, who told Russian news agencies that 18 gay activists and 14 opponents were arrested.
Among those arrested were Dan Choi, an American Iraq war veteran and gay-rights campaigner; Andy Thayer, a Chicago activist; and Louis-Georges Tin, the founder of the International Day Against Homophobia and president of IDAHO French Committee who were in Moscow to support the rally. The foreign protesters were reportedly released without a charge or fine, but the Russians were held overnight.
"I am here in Russia in solidarity with our brothers and sisters who are fighting for the basic right to express their identity," Choi said in a video before his arrest.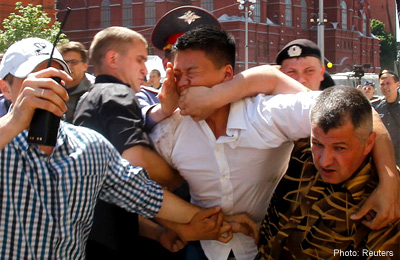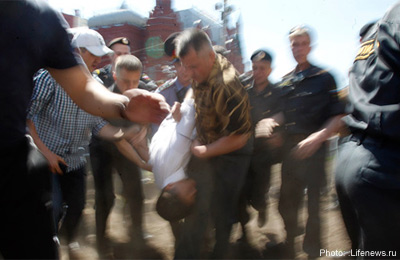 Dan Choi being carried to the police van. More photos at Lifenews.ru/gallery/3931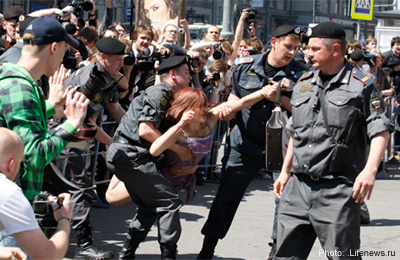 In a video shot by Australian filmmaker Logan Mucha and posted on americablog.com, Choi and Thayer are seen walking on a relatively crowded street when they were suddenly swarmed and violently arrested by the police.
The Moscow authorities, who rarely tolerate anti-government demonstrations, have banned Russia's few gay-rights activists to hold a rally in the capital, though similar events have been permitted in St Petersburg.
Last week the city denied the group a parade permit due to "a number of complaints", Moscow's deputy mayor, Luydmila Shevtsova said, according to reports from national new agency Ria Novosti.
Nikolai Alexeyev, Head of Gay Russia, chief organiser of the Moscow Gay Pride Parade told CNN: "We have been asking for the last six years to gather. We are being deprived of a very simple right that is taken for granted in democratic countries."
Alexeyev said as soon as activists took out their banners and flags, dozens of members of an ultra-Orthodox group attacked the activists. Gay rights groups and members of ultra-Orthodox and ultra-nationalist groups have clashed for years.
Gay rights flags and banners that read 'Russia is not Iran' were displayed in the crowd.
Although the European Court of Human Rights last year fined Russia €29,510 ($39,400) for its refusal to allow gay-rights supporters to hold peaceful demonstrations in Moscow, this year's rally was banned, nevertheless.
The US State Department has also voiced "concern" over the violent end to a gay rights rally in Moscow, and called on Russian authorities to better safeguard "fundamental freedoms" of assembly. US State Department spokesman Mark Toner said in a statement issued on Sunday: "We note with concern... that a peaceable demonstration of Russians advocating for the rights of gays and lesbians, joined by international supporters, was forcefully disrupted by counter-protesters, and that Russian security forces then detained people from both groups... Some protestors were seriously injured according to media reports."
"Freedom of assembly is a fundamental right all members of the OSCE committed to, including in the Moscow declaration and as recently as the Astana summit. As nationwide legislative elections approach, constraints on the ability of Russian citizens peacefully to gather and express their views will be closely watched in evaluating the integrity of the electoral process. We call on Russian authorities to work with municipal officials to find better ways to safeguard these fundamental freedoms."