Welcome to the Fridae Newsletter. Our featured article today introduces Maika Elan, who will be showcasing at the 'Can You See Me?' exhibition in Singapore. In international news we've got round-ups of the Sochi Olympics in Russia and the situation in Uganda. In the region, we've got updates from China, Hong Kong, Singapore and Taiwan.

Hong Kong
2014-03-06
Bangkok
2014-03-01 - 2014-03-02
Australia
2013-05-27 - 2014-05-27
Singapore
2014-02-22
Check out the new Agenda - Fridae's essential guide to all things happening in YOUR city. Post events for free (log in required)!

Comments
To subscribe / unsubscribe
click here. (log in required)

News / Features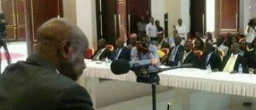 News Around the World
Uganda President Signs Anti-Homosexuality Bill | Developments and Reactions

On Monday, Uganda President Yoweri Musevini signed the Anti-Homosexuality Bill, which includes life imprisonment for repeat offenders and jail time for people who fail to report homosexuals to police. This the latest on the repercussions of the world's most homophobic legislation.


News
Guangzhou students ask Chinese Leaders to legalize Same-sex Marriage

On Monday 3000 letters, individually addressed to deupities of the National People's Congress, calling for the legalization of same-sex marriage were sent by students in Guangzhou.


Feature
How bad were the Winter Olympics in Sochi for LGBT? We evaluate the highs and the lows



News
Malaysian Military least LGBT-friendly in Asia

According to the LGBT Military Index 2014 Malaysia has the toughest stance in Asia against LGBT people in the armed forces.


News
Gay blogger, Zhao Peng, taken to court by internet company 58.com in Beijing

Zhao Peng, who is a popular and openly gay blogger in China, has been in court today.


News
Lesbian magazine editor expresses sexuality at Taiwan's legislative building, encourages celebrities to do the same



News
Pastor Lawrence Khong is Being a Naughty Boy with Online Petitions Against Petitions Against Health Promotion Board and a Guide to Supporting Article 377A

Singapore Pastor and anti-gay activist Lawrence Khong has revealed himself as behind an online anti-gay petition to remove information from the Public Health Bureau's website and is most likely responsible for a guide on how to support Article 377A, which also surfaced this week.


Lifestyle

愛,不難 (For Love, We Can) Short Film Presented by Red Ribbon and HKLGFF Premiering on 6th March 2014




IDAHOT (International Day Against Homophobia and Transphobia) only three months away

With just 3 months to go to the International Day Against Homophobia & Transphobia (IDAHOT) 2014, activists in dozens of countries are now actively planning their events, whilst many have already announced them.