Hong Kong
2014-03-06
Bangkok
2014-03-01 - 2014-03-02
Minhang District
2013-12-14 - 2014-06-29
Australia
2013-05-27 - 2014-05-27
Check out the new Agenda - Fridae's essential guide to all things happening in YOUR city. Post events for free (log in required)!

Comments
To subscribe / unsubscribe
click here. (log in required)

News / Features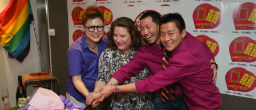 People
Launch of 'Double Happiness' LGBT Group in Support of Marriage Equality

On March 2nd at an event on the waterfront of Victoria Harbour Hong Kong, well known Hong Kong LGBT community members announced the formation of Double Happiness, the first organisation in support of marriage equality in Hong Kong.


News Around the World
Sydney Gay and Lesbian Mardis Gras Wraps Up | Photo Report

With photos by Hamid Mousa courtesy of SBS, we take you through the highlights of Sydney's epic Mardis Gras.


People
From Kampong to High Court | Interview with M Ravi

Arguably Singapore's most high-profile, some say only, human rights lawyer, M Ravi takes on cases that don't usually pay well, if at all.


Commentary
For some, being gay is full of excitement, parties and unapologetic love. but one often forgets that depending on your location or your social background, your sexuality, true essence of your identity, could get you bullied, fired or even killed.


Entertainment
Kerrie Hui looks forward to the most colourful LGBT events in our part of the world over the next few months.


People
Maika Elan 'The Pink Choice' | Photographs of LGBT couples by Vietnamese photographer exhibited at 'Can you see me?'

Can you see me? is a LGBT art and photo exhibition organised by Element magazine with the aim of promoting diversity by showcasing the lives of the ordinary LGBT people through the works of various LGBT or LGBT-friendly artists.


News
Guangzhou students ask Chinese Leaders to legalize Same-sex Marriage

On Monday 3000 letters, individually addressed to deupities of the National People's Congress, calling for the legalization of same-sex marriage were sent by students in Guangzhou.


Lifestyle

Queer Tokyo, Lost in Translation

Walk through the narrow streets of Ni-Chome on a Saturday night, and you're forgiven for thinking you've stumbled upon a massive impromptu gay-pride festival. That's because Ni-Chome (pronounced knee-chomay) boasts the highest concentration of gay bars in Asia, if not the world.