Welcome to the Fridae Newsletter. Get ready for the first regional LGBT awards this week, as ELEMENT magazine hosts Asia Pink Awards 2014 in Singapore. Also, check out what's been going on in the region below with the latest news and events.

Hong Kong
2014-03-06
Australia
3rd Asia Pacific Outgames - SPORTS REGISTRATION CLOSES 11 APRIL 2014
2014-03-11 - 2014-04-11
Check out the new Agenda - Fridae's essential guide to all things happening in YOUR city. Post events for free (log in required)!

Comments
To subscribe / unsubscribe
click here. (log in required)

News / Features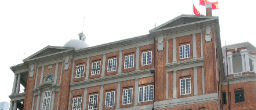 Commentary
Hong Kong's bill on transgender marriage is inhumane

Nigel Collett, Fridae's Hong Kong correspondent, comments on the government's ruling on the marriage of Ms W, a male to female transgender person and the recently published Marriage (Amendment) Bill 2014. This article originally appeared in China Daily on March 10 2014.


News
ICJ: Anwar Ibrahim's conviction of sodomy in Malaysia is a miscarriage of justice

The International Commission of Jurists has condemned as a miscarriage of justice, Malaysian opposition leader Anwar Ibrahim's conviction on sodomy charges.


News
Same-sex marriage advocacy groups react to Lin I-hsiung's comments in Taiwan

LGBT rights advocacy groups in Taiwan have condemned former Democratic Progressive Party chairman Lin I-hsiung over comments that there should be special legislation for same-sex marriages.


Feature
Thailand's Intolerance of Its Own LGBT Community Will Surprise You

The Land of Smiles is a gay-friendly playground of brazen lady boys and sexual license, right? Well, not quite... Written by Per Liljas for Time Magazine.


People
Watch : Transgender Rights are Human Rights by UNAIDS

A Powerful new video has been released from the Asia Pacific Transgender Network and UNAIDS.


Commentary
For some, being gay is full of excitement, parties and unapologetic love. but one often forgets that depending on your location or your social background, your sexuality, true essence of your identity, could get you bullied, fired or even killed.


People
Launch of 'Double Happiness' LGBT Group in Support of Marriage Equality

On March 2nd at an event on the waterfront of Victoria Harbour Hong Kong, well known Hong Kong LGBT community members announced the formation of Double Happiness, the first organisation in support of marriage equality in Hong Kong.


News Around the World
Sydney Gay and Lesbian Mardis Gras Wraps Up | Photo Report

With photos by Hamid Mousa courtesy of SBS, we take you through the highlights of Sydney's epic Mardis Gras.


Lifestyle

Queer Tokyo, Lost in Translation

Walk through the narrow streets of Ni-Chome on a Saturday night, and you're forgiven for thinking you've stumbled upon a massive impromptu gay-pride festival. That's because Ni-Chome (pronounced knee-chomay) boasts the highest concentration of gay bars in Asia, if not the world.