Welcome to the Fridae newsletter. This week, we announce the first Pink Dot event to come to Hong Kong in June, have the latest updates from the region, and there's even a guide to some common relationship mistakes.

Bangkok Yai
2014-04-11 - 2014-04-12
Bangkok Yai
2014-04-12 - 2014-04-13
Bangkok Yai
2014-04-12
Bangkok Yai
2014-04-13 - 2014-04-14
Bangkok Yai
2014-04-13
Check out the new Agenda - Fridae's essential guide to all things happening in YOUR city. Post events for free (log in required)!

Comments
To subscribe / unsubscribe
click here. (log in required)

News / Features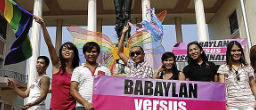 News
Transgender woman in Philippines sues to stop discrimination at work

A transgender woman in the Philippines has filed criminal charges against two security guards for repeatedly preventing her from using toilet facilities for women.


News
Marriage equality in Vietnam will not help gay people, says activist

Vietnam's move to legislate marriage equality is a ruse to make it look "cool" and promote its new face of modernity for the government has failed to educate the nation's conservative base that recognizes same sex relations as taboo, says a Vietnamese gay activist.


News
China state media acknowledges gay youth who challenged govt

A 19-year-old's campaign to challenge a decision by the civil affairs department of Hunan government not to register his gay rights organization has thrown him into the media spotlight.


News
Taiwan court rejects marriage registration for same-sex couple

A court in Taiwan has rejected a gay couple's appeal against a government agency for refusing to register their marriage, which gay rights activists say is a major setback for equal rights.


News
Activists at the ASEAN People's Forum call for the protection of LGBT rights in Southeast Asia

ASEAN SOGIE Caucus have been at the ASEAN (Association of Southeast Asian Nations) Civil Society Conference and the ASEAN People's Forum in Yangon, Myanmar. The group has been lobbying the 10 member states to make provisions for LGBT rights.


News
Let's have a look at the latest LGBT updates from Japan. There's been a revealing poll about the nation's stance on gay marriage, a HIV awareness billboard causing a stir in Tokyo and an inspirational coming out speech from a teenager.


Lifestyle

Top 7 Common Relationship Mistakes Gay Men Make

Straight(ish), Gay, or Bi-Curious - We all want to have a great relationship but some of us just don't know how to keep one. Here are some common mistakes Gay men make in relationships.



Watch : Lady Gaga unveils music video for G.U.Y.

Directed by Gaga herself, the Artpop Production from Haus of Gaga is 7 minutes long. The epic video features dramatic heaven and hell dreamscapes mixed with Greek mythology, used to create a parody of male-dominated capitalism. Oh, and there's plenty of shirtless men.