Huangpu District
2014-06-21
Shanghai
2014-06-21 - 2014-06-22
Shanghai
2014-06-21
Shanghai
2014-06-14 - 2014-06-15
Shanghai
2014-06-15
Changning District
2014-06-18
Shanghai
2014-06-21
Check out the new Agenda - Fridae's essential guide to all things happening in YOUR city. Post events for free (log in required)!

Comments
To subscribe / unsubscribe
click here. (log in required)

News / Features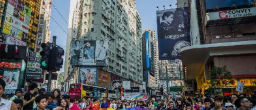 News
LGBT community 'confused' over Hong Kong government's stand

The LGBT community in Hong Kong is confused over claims that the local government objected to British same-sex couples being able be wed at the UK consulate.


News
US Consul General supports gay rights in Vietnam

The US Consul General has promised to work and promote LGBT rights in Vietnam and enable the Vietnamese society to further equality and social acceptance in the country.


News
HIV incidence among gay men in Singapore 'worrying'

The latest health ministry figures of the number of gay and bisexual people with HIV/Aids is worrying, says Singapore's premier voluntary organization that helps those living with the infection.


News
Anthony Wong signs Freedom to Love t-shirts ahead of Hong Kong's Pink Dot this Sunday

Anthony Wong, cantopop superstar and one of Pink Dot Hong Kong's ambassadors, signed limited edition T-shirts in the latest event leading up to Hong Kong's Pink Dot on Sunday 15th June.


News
Gay Britons in some Asian countries can now get married legally

British citizens living in Asian countries will now be able to get married there legally even though the host country may not deem such marriages legal.


News
Curfew hits Bankok's iconic nighttime gay tourist spots hard

Popular gay tourist hubs in Bangkok have remained quiet and near empty following Thailand's recent military coup and the daily night-time curfew.


Lifestyle