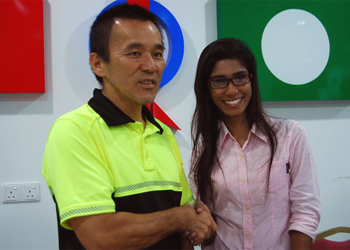 Democratic Action Party assemblyman Teh Yee Cheu with
Hazreen Shaik Daud (right).
Seen as yet an other first for Penang and perhaps Malaysia, a transgender woman has been engaged to assist assemblyman Teh Yee Cheu oversee the transgender community's welfare, after the proposal was tabled and approved in the State Assembly last week.
Teh who is the Tanjung Bungah representative, heads the panel with the support of both Pakatan Rakyat and Barisan National representatives, including State opposition leader, Jahara Hamid.

The committee, set to be formed within two months, aims to collect data and alleviate the status and social stigma associated with the transgender community. The committee plans to also conduct forums and spread public awareness on the issue.

"…they have rights over their bodies, and have a right to decide what gender they are most comfortable with," said Teh.

At a press conference today (10/7/13), Teh, who proudly claims to walk the talk, announced that he had engaged transgender woman Hazreen Shaik Daud as his political secretary.

"I am thankful to YB Teh for giving me the opportunity to work with him," said Hazreen, a 33-year-old diploma holder who speaks fluent Mandarin and English besides the national language. Hazreen is expected to assume duties on July 15 and had previously worked for an NGO known as the Penang Family Health Development.

The demure and pretty lady revealed her concerns over employment opportunities available to transgender people.

"Even with qualifications, we are turned down just because of how we look," she said, adding that she would eventually want to operate her own boutique.

An edict, issued by the Fatwa Committee National Council of Islamic Religious Affairs Malaysia held on 13th December 1989, had declared that sex change was prohibited under the Shariah. According to Chong Eng, facilitator to the committee who also holds the State EXCO portfolio for Youth and Sports, Women, Family and Community Development claims that there are between 10,000 and 50,000 transgender persons in Malaysia.

Gender is actually not the issue – it is the segregation of gender that makes gender the issue. Gender in our society have, till recently, been plainly categorised as male and female, and though the transgender community have been seeking legal redress in terms of recognition and status, the struggle against age-old conformities are nothing short of an arduous task.

Among the top agendas of the transgender welfare committee are to seek better accessibility for transgender persons in terms of basic needs like accessibilities to healthcare, employment and to provide equal treatment to persons with gender disagreements at public places such as schools, hospitals and detention centres.

'Mak Nyahs' as they are commonly termed refers to a transgender who was born a male but identifies himself more as a woman. Presently, Mak Nyahs or pondans, another derogatory term, have trouble seeking employment, are still scorned at by the society by large and even unaccepted by parents.

'If my son was a pondan, I would beat him to death' is the response of many fathers whose sons are considered soft.

In 2011, boys with effeminate tendencies were sent to a four day behavioural camp in Besut, Trengganu in an effort to 'toughen' them up.

In contrast, other countries have begun a larger acceptance of the LGBT (Lesbians, Gays, Bisexuals and Transgender) community with even some religious leaders, celebrities and politicians coming out of the closet to proclaim their sexual orientation and preferences.

Take the example of the recently concluded decision of the Washington Supreme Court. Two cases were ruled on the same day in favour of gay marriages and the constitutional rights of same-sex marriages. The liberal stance of the US court may have an impact on the overall perception and tolerance towards LGBT.

Although Malaysia may still be considerably homophobic and reluctant to address the transgender and LGBT issues, the fact remain that such people exist and should be accorded proper and equal rights. As what the late Neil Armstrong said, this is one small step for man, one giant leap for mankind. Penang has given new hope to the discriminated.
Carolyn Khor hopes to contribute her effort in making meaningful changes to the world. She was formerly the Editor for Komunitikini Penang, was CJMY Programme Coordinator and was also a Trainer in News Writing for the Penang and the Northern Region under phase II of the Citizen Journalist Programme. She was trained by Malaysiakini, CIJ (Centre for Independent Journalism) and also the ICFJ (International Centre for Journalists). Besides writing, she sings, plays the piano, does video editing and photography. Writing poetry is her personal favourite. She can be reached at carolynkhor@gmail.com