Local participants and supporters from China, Japan, Singapore, Malaysia and Thailand braved the chilly winds and light rain to march from Ketagalan Boulevard to the Presidential Office.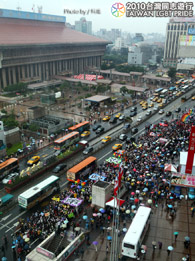 The theme of the 2010 event – the eighth of its kind in Taipei – was 'Out & Vote'. The march called for a comprehensive government policy to protect gay rights.
Organiser of the parade Taiwan LGBT Pride Community, a coalition of LGBT and other civil society organisations, say although the size has grown tremendously from about 500 participants when it started in 2002, there has been no corresponding progress in gay and lesbian rights legislation during this period, reported Taiwan Today.
The theme was chosen to in a bid to move gay and lesbian issues higher up Taiwan's political agenda and urge members of the LGBT community and its supporters to "exercise his or her political power" at the upcoming special municipality elections scheduled to take place in five cities on November 27.
"We are angry because the politicians in Taiwan have overlooked the needs of the LGBT community during numerous law-making and public policy decision-making processes… Those with power pose themselves at this moment as if they have suddenly recognized the visibility and political significance of the LGBT community. Yet time and again they leave empty promises with us and other social minorities such as the working class, the disabled, and the aboriginal citizens." Read the official parade website.
"While we hoped the rally would raise awareness of gays and lesbians, the rally also aimed to vie for substantial support from the election candidates," parade spokesperson Rex Shau was quoted as saying by AFP. "Some politicians just paid lip service, never taking real steps to adopt non-discrimination measures."
In 2003, the Executive Yuan drafted a bill to legalise same-sex marriages and recognise the rights of same-sex couples to adopt children but proposed bill has yet to be passed, leading some gay groups to criticise its drafting as simply a ploy to woo voters.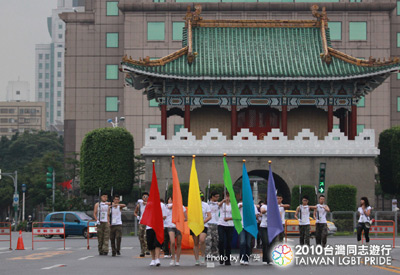 All photos courtesy of Taiwan LGBT Pride Community,
visit flickr.com/photos/twlgbtpride/ for more.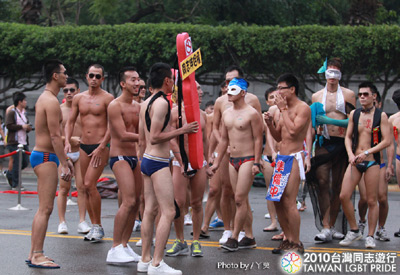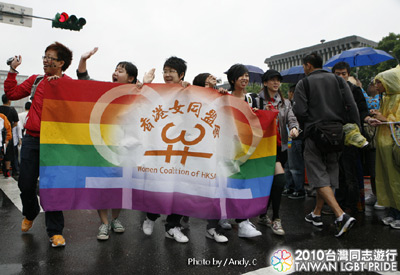 Connie Chan (extreme left) marching under the Women Coalition of Hong Kong banner