Helmed by Mrs Georgia Kuo (郭) who is affectionately known as Kuo Mama (Mummy Kuo) in the community, her new group Loving Parents of LGBT wasted no time and immediately called on the government to be more tolerant toward the LGBT community and for an equal rights bill.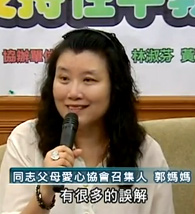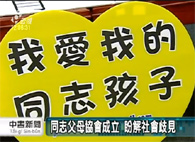 Above: Mrs Georgia Kuo
"Gays are just like everyone else, they have parents, like us, and they, as well as their parents, pay taxes just like every citizen of this country – so they should enjoy the same rights as everybody else," said Kuo who is in her fifties and a mother of lesbian daughter, reported the Taipei Times.
In an interview with Fridae last year, Kuo, who was featured in Fridae's LGBT People to Watch 2010 series, said she became involved with LGBT advocacy group Taiwan Tongzhi Hotline Association (TTHA) after attending a meeting for parents of LGBT children in 2004. That was four years after her daughter – then 15 – came out to her.
By the following year, she had persuaded the other parents whom she had met in previous meetings to form a support group; calling themselves "Parents in Closet" – a literal translation of the group's name in Chinese 櫃父母 (gui fu mu). The group evolved to become "LGBT In and Out Parents Association" (櫃父母同心協會), the first organisation of its kind in Taiwan.
Kuo says the aim of the group is to help gay children talk to their parents about their sexual orientation and help parents to accept their children for who they are; and parents parents need both peer support and the right resources to help each other gain more understanding.
"Many people may think it's hard to make your parents accept that you love someone of your own gender, which is why less than 30 percent of the LGBT population 'come out of the closet' to their parents," Kuo said. "But based on our own experience, most parents are willing to accept the fact when their kids make an effort to communicate with their parents."
According to Focus Taiwan, the group also expressed their support for a government initiative to include LGBT issues in the curriculum for elementary and junior high school students, with effect from next semester. Since the Ministry of Education's announcement earlier this year, the news has drawn mixed reactions, with conservative groups saying it was an inappropriate subject for students at that level, while others welcomed it as a step in the right direction.
"This is our only hope," said Kuo. "There is nothing wrong with them and they don't need to change," said Kuo, who related that her daughter was rudely called a "pervert" in fifth grade.
Read more about Mrs Kuo and how she came to be involved in setting up the parents' group in Fridae's LGBT People to Watch 2010: Georgia Kuo.

(In Minnan dialect and Chinese)