Fridae and IBM will hold the first conference of its kind in Bangkok, Thailand on May 8 as part of its ongoing efforts to promote the empowerment of LGBTs in Asia.
Titled "The Power of LGBT Diversity in the Workplace and Marketplace", the conference is expected to bring together human resource professionals, senior executives, diversity champions, corporate decision makers, people managers, labour union leaders and policy makers, and LGBT community advocates to discuss key diversity issues relating to lesbian, gay, bisexual and transgender (LGBT) employees.
Key speakers of the event include Anthony Tenicela, a Business Development Executive and Global Leader for Workforce Diversity and LGBT Markets at IBM and Paul Thompson, Executive Chairman of Fridae Limited.
They will be joined by a panel of experts to promote the understanding of the business case for LGBT diversity practices in corporations, share best diversity practices to leverage on LGBT human capital and the impact on the revenue, growth and productivity of companies; and discuss role of LGBTs and the understanding of diversity in Asian markets.
"At Fridae, our ultimate vision is the empowerment of LGBTs in Asia. We strongly believe in the power of the alignment of a commercial business and supporting the community we serve. We believe that this equally applies to the workplace and that creating an environment where all members of our community feel comfortable is not only good for the individuals but also good for the business," says Thompson, who is also the founder of LGBT Capital, the first specialist Investment firm focused on the LGBT sector in the world.
"We are proud to be working with IBM, a pre-eminent force in striving for workplace diversity and look forward to a stimulating event," he added.
Tenicela says: "IBM is proud to partner with Fridae on this first-of-a-kind corporate forum in Bangkok addressing the power of LGBT in the workplace and marketplace. At IBM, diversity fosters innovation in the way IBM addresses the needs of our clients and helps the world work better. Given the breadth of IBM's business across 170 countries, diversity is a competitive differentiator that enables IBM to reflect the global diversity of our customers.
"From a LGBT market perspective, the discretionary income of the lesbian, gay, bisexual, and transgender community is growing every year, along with their presence in the workplace and marketplace. IBM's ability to provide thought leadership to our customers in addressing constituency markets, as well as further leveraging those customer relationships to identify other business opportunities is what makes this business model unique and effective."


Event details
Date: May 8, 2012 (Tues) Time 9 am to 2 pm (includes lunch)
Venue: VIE Hotel Bangkok, 117/39-40 Phaya Thai Road
(Ratchathewi BTS Station)
The event is free.
For more information and to register, visit fridae.asia/diversity
Registration closes April 25. As this is an exclusive seminar, limited seats are available. We will send you a confirmation email following successful registration. If you are unable to attend the seminar after registering, please notify us as soon as possible.


---
Paul Thompson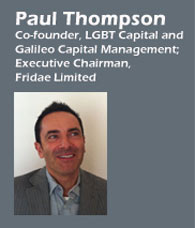 Paul Thompson is the founder of LGBT Capital, the first specialist Investment firm focused on the LGBT sector and Chairman of Fridae, Asia's pre-eminent LGBT website. Paul has a career spanning more than 25 years in the Investment Management sector and was the first foreign CEO of a domestic fund management company in China. He also had management roles at Fidelity Investments, Prudential Financial and Goldman Sachs. Paul has always been passionate about diversity and this was a big factor in his decision to leave the Corporate world to start LGBT Capital early in 2010. LGBT Capital is currently working on the development of a fund focused on LGBT diversity.
Anthony Tenicela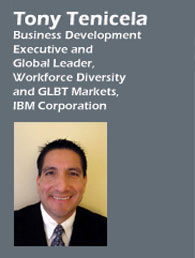 A seasoned veteran of business transformation initiatives in traditional and growth markets, Tony Tenicela currently leads IBM's global customer facing organisation for advising C-Suite executives on the role of diversity, human capital, and community relationships as strategic business drivers to foster innovation and stimulate business growth. Tony has been recognised by both multinational corporations and emerging enterprises as a thought leader in the areas of diversity strategy, social media, collaborative environments, workforce transformation, and innovation strategy. Tony also manages IBM's global LGBT commercial strategy leveraging numerous corporate community partnerships across North America, Latin America, Europe, and Asia to identify new business opportunities.
For more information and to register, visit fridae.asia/diversity