Among many queer foreigners, the City of Angels has a special reputation. It's exotic. It's ecstatic. It's bold. It's where your mother wouldn't want you to be. Less than 24 hours off the plane from Australia and into the thick of the gay scene, Brett has definite ideas about the place. "If you want it," he says, indicating a throng of tight-shirted boys in front of a bar, "it's going to be there."
"Every gay in the world wants to go to Bangkok," says Robert, director of Utopia Tours. In reality, this is a city where many of the most exquisite women were born as boys, where quiet but known homosexuals go about their business undisturbed-even at the very highest levels of government, entertainment and business-and where thousands of foreigners come for the annual gay festival and pour their queer dollars and drachma and yen into the gay economy while dancing until dawn with members of the gender of their choice. But is Bangkok going to become the queer capital of Asia? Probably not. At least, not yet.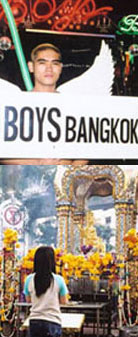 The very things that make Bangkok seem like the best place in Asia to be gay-the apparent acceptance of homosexuality in Thai culture, the size and intensity of the scene, the money-and-fun mindset of Thai gay society-are the same things that prevent it from developing a strong gay culture of its own.
There are a number of factors that make Bangkok a gay-friendly city and a magnet for gay travellers. First and foremost, homosexual acts are legal in Thailand. The police on Silom Road, an area notorious for its bold and open gay scene, are usually directing traffic. Gay businesses are allowed to thrive. Bars blossom in all parts of the city, as well as saunas, coffee houses, restaurants, a few gyms and a health spa, marketing themselves specifically to a gay clientele. While these places aim themselves at gays, they make money from straight visitors as well.
That's because Thai society generally doesn't condemn homosexuality. If the Buddha had a problem with gays, the Thais believe, he kept it to himself. But what about his censure of "sexual impropriety?" Are gay acts improper? Not according to one monk who studies the Dharma at Mahachula Buddhist University. Lovers should be faithful to one another, he says. The gender match of the couple doesn't matter.
For many straight Thais, in fact, homosexuality doesn't even register as a fact of life. One gay man says that he never plans to come out to his family, and not because he is afraid they would reject him. "They would be too confused," he explains.
---
Ignorance is better than antagonism, but not as good as it might first appear. The monk did say that gay sex was not a sin, but then added that it was "strange" and "bad." Why? Because it's different. Society won't sanction it, parents don't teach it.
Thais usually accept eccentric and unusual behavior with a smile and a nod-that doesn't mean they approve. Most Thais share a strong reverence for polite conformity. There is very little open, expressed homophobia, which newcomers like Brett often confuse with acceptance, but there is a vague sense that being gay is unseemly and inappropriate.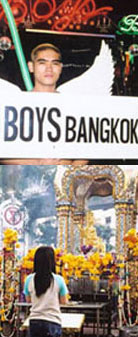 What happens in a society where gays aren't oppressed, but aren't really approved of, either? When prejudice, bashings and the AIDS crisis pushed American queers against the wall, they formed an active, organized community to push back. Gays in Thailand, on the other hand, are comfortable but slightly sheepish. They lack the impetus to develop a strong sense of queer community outside the mainstream. Would Thais press for gay rights if it meant exposing themselves?
"For myself, I think we are in Thailand, and that's the important reason why I say no," says Chin, 23. "because in the right way, I think a lot of people won't accept gays… If gays stay with gays in the bar, everyone is so happy and so open and identify themselves, but when they're on the street or at work, they do anything to hide they are gay."
Homosexuality is private, but not secret. Gay community groups and public discussions of queer issues are few and far between. Instead, the gay community is made up of a network of often platonic cliques, friends, and acquaintances-less than alliances but more than liaisons. This is what gives visitors the largely correct impression that being gay can be good for business. In a country where jobs and opportunities are routinely given to friends and family, and less often disseminated though the help-wanted ads, gay-gay connections play an important role in many lives.
When Mick, 32, graduated from college, he worked as an executive for Audi, a job he later left to find more freedom. He founded an entertainment management business that never got off the ground. One night at Telephone, a popular gay hang-out in the Silom area, he met Gary, who was looking for love, and also for someone who could handle the office of his small handicrafts-exporting firm. It was never a question of romance, says Mick. The two now work together, and go home alone.
---
Having lived with a government that is seen as self-serving, and largely corrupt, most Thais rely on networks of people they know they can trust, and don't turn to formal governmental or community organizations. As a result, gay Bangkok has very few queer services that aren't businesses, and few effective spokespeople or venues to talk about issues.
When gay Thais get together, they are more likely to think about starting businesses than demanding legal protection; likewise, they seem very interested in having fun, but not very interested in community HIV prevention. To outsiders, gay businesses appear to be thriving-and they are. But it's not maturing into a community that does anything other than promote fun and business.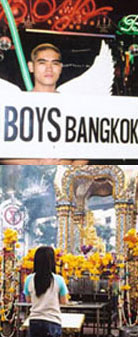 In some cases, the connections are becoming more formal. The newly formed Thailand Alternative Travel Association (TATA) links gay agents, hoteliers, and other gay members of the service professions, trying to allow Bangkok to compete with other western gay travel destinations, by providing travellers not with sex, but with comfortable gay travel environments. It is rough going though, as Thais in general are not joiners. There is also the Anjaree Group (anjaree@hotmail.com), a lesbian social and political association. In the future, groups like this may actually have a big impact on gay life here, but not yet…
Will Bangkok ever become Asia's centre of queer art, queer politics, queer cultural thought? Probably not in the near future. This year saw the release of Iron Ladies, a film about the real-life transvestite team that won the Thai national volleyball championship several years ago. While the film made a limited attempt to humanize some of its transvestite characters, there were three others whose main role in the film appeared to be to provide comic relief acting out the negative stereotypes Thais have of transvestites-squealing, preening and crying.
Hardly a harbinger of a gay cinematic renaissance, it reinforced popular images without saying anything new. How did gay Thais respond? Like the heterosexuals, they saw it in droves; it is one of Thailand's top-grossing domestic films. It was generally liked, stereotypes and all, but gay Bangkok has very few public forums to discuss the issues it raised.
Brett might be partly right. The nightlife in Bangkok may be the continent's best. But behind the quietly and safely closed doors of Bangkok's bars and discos, visitors might find a group not as exotic, ecstatic and bold as the stereotypes suggest, although there is a large, active and exuberant group of gays having fun and making connections on Saturday nights-and going about it more subtly the rest of the week as well. This nonetheless does not equate into a community with the ability to deal with the issues it faces. The gay community is still focused on making money and having fun, and lacks the sense of community and identity it needs to become the real queer capital of Asia.