Responding to reporters' questions on the authorities' recent decision not to give SnowBall the go ahead, Prime Minister Lee Hsien Loong on Sunday explained the government's stance saying that the decision reflected "balance and judgement."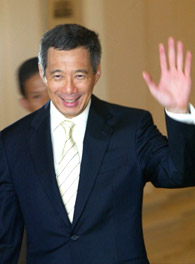 Prime Minister Lee Hsien Loong
Although the organiser submitted an application for a public entertainment licence in October, the police announced their decision on December 8 - slightly two weeks before the party to be held on Christmas Day - in a press statement, saying that the event was "contrary to public interest" and "goes against the moral values of a large majority of Singaporeans."
Organiser Jungle Media, a Singapore subsidiary of Fridae.com, have had all its applications approved since its first Nation party in 2001.
Speaking about the issue for the first time, PM Lee was quoted in a local newspaper as saying: "It's a question of where to draw the line. We made it quite clear that the party should not be targeted at gays alone.
"There are certain norms and limits which we have to observe and that was the understanding under which the permit was granted last time."
"As the party turned out, our sense of it was that this was beyond what we are prepared to accept. So, we have said 'no'. It's a matter of balance and judgement — how far we can go and where the limits are. I think it's the right thing to do."
He spoke at sidelines at the People Action Party's community day celebrations in Sentosa.
The Ministry of Home Affairs (MHA) on December 13 rejected an appeal to overturn a rejection of Jungle Media's application for Snowball.04.
In its December 8 statement, the Police said that they had received complaints from some patrons about the openly gay acts at the Ball and took issue with members of the same gender seen "kissing and intimately touching each other" during the party and some patrons using toilets meant for the opposite sex, "suggesting that most of the patrons were probably gays or lesbians and that the event was almost exclusively for them".
Queried by reporters on whether Singapore was prepared to "go all out to compete for the pink dollar," PM Lee said: "When you put it like that, it's all or nothing. It's a matter of balance of norms we're prepared to accept in our society.
"Of how we can have space for this group of people who are gay whom we accept as Singaporeans, at the same time respecting the outlook, perspective and values of Singaporeans who know Singapore to be a certain way and do not want to see it changing suddenly. And I think they have a point."
Jungle Media, which has organised the annual Nation parties timed to coincide with Singapore's Independence Day since 2001, will work closely with the relevant authorities to ensure that Nation.05 meets with the requirements set out.