Row stirs over gays' place at front of July 1 march
A religious group in Hong Kong has threatened to boycott the July 1 democracy march as organisers revealed their decision to have gays and lesbians included as leaders in the march.

The outcry led the organisers of the march to say in an interview with I>The Standard that the fundamental principles behind the march is understood by fewer than desired. Civil Human Rights Front convener, Chong Yiu-kong, said that while the march for democracy is in its third year, the message of equality which buttresses marchers' calls for universal suffrage, remains unclear to some.

Spokesman for Christian group Society for Truth and Light, Choi Chi-sum that the march would be boycotted in response to the front's decision to have gays and lesbians included as leaders in the march. He said in a newspaper column that he opposes having gay groups lead the march because it would distort the march's message and amount to "hijacking its purpose."

The Hong Kong Alliance For Family, a religious umbrella group linked to the Society for Truth and Light had taken up four full-page advertisements in a local newspaper in April to express disapproval of the territory's government's initiatives to look into possible legislation against discrimination of homosexuals.

Chong said gays and lesbians are among the handicapped, new immigrants from the mainland and single parents who have been chosen to help lead this year's march as a continuation of last year's decision to have grass-root groups lead. "No matter who comes first and who holds that banner, the march's two themes of fighting for universal suffrage and opposing business-government collusion remain the same," he said.

Having the disadvantaged lead the march for universal suffrage is not irrelevant but highlights the fact that democracy can only be based on equality, he said. All nine religious groups within the front have no disagreement with gays leading the march, said Chong.

POST/READ COMMENTS

China, WHO to provide AIDS intervention among MSM in Hunan province
China and the World Health Organization (WHO) will work together to conduct AIDS intervention on MSM (men who have sex with men) groups in the central province of Hunan within the year, a WHO expert has revealed last Friday in the provincial capital of Changsha.

According to the ChinaView web site, trial operations will be first launched in Changsha and Hengyang cities before the end of 2005 to provide local male homosexuals with special gathering venues where condoms and AIDS/HIV consultations are available. The program also aims to mobilise volunteers to conduct "partnership education" among the homosexual groups, a self-education measure proven successful in previous AIDS/HIV intervention endeavors worldwide.

Professor Zhao Pengfei from the WHO Representative Office in China said that the organisation would technical support for all the activities and the program is expected to cover six other cities in Hunan by monitoring local AIDS/HIV infections among MSM and providing medical treatment and psychological consultation for the infected. The joint program would involve a total spending of US$4 million.

Currently, China has some 840,000 HIV carriers including 80,000 AIDS patients. The epidemic has spread throughout the country and is transferring to common people from high-risk groups such as sex workers, drug users and MSM.
---
Spanish Senate to debate Gay Marriage Bill, psychiatric expert dubbed homosexuality a "pathological" state
"Homosexuality is a pathology," said Aquilino Polaino, professor of psychiatry at Madrid's Catholic university, who had been called in by opposition rightwing legislators to speak on the issue before the upper house of parliament.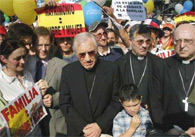 Nineteen of Spain's bishops participated for the first time in the country's democratic history in a demonstration against a government initiative to grant same-sex unions the same status as heterosexual marriage.
Religious groups in the predominately Catholic Spain fiercely oppose the gay marriage legislation - promoted by the ruling Socialist government - which is expected to become law at the end of June or early July, after it goes through some remaining bureaucratic steps, such as a nonbinding vote in the Senate.
The Socialists slammed the professor's "palaeolithic" views while gay rights groups were outraged with Spain's federation of lesbians and gays calling for his expulsion from the official college of Madrid doctors' panel of experts.
"A violent, hostile, distant or alcoholic father" or "a cold, over-protective mother" are what "causes" homosexuality which can lead those so afflicted to depression and to seek solace in drugs, Polaino said on Tuesday.
Hundreds of thousands of people marched through central Madrid last Saturday to protest Parliament's recent approval of a bill to legalise gay marriage. Nineteen of the country's bishops participated for the first time in Spain's democratic history in a demonstration against a government initiative.
Many practicing Catholics have questioned the church's involvement in politics. Enrique Miret, former president of the John XXXIII Association of Theologians, says that his group does not agree with the Episcopal Conference's support of the demonstration. "They should not be getting involved in questions of civil law," he says. "That's what parliament is for."
According to both supporters and critics, the measure goes further than any law in Europe to equate the rights of heterosexual and same-sex couples as other European nations that have legalised gay marriages, such as the Netherlands, have done so by creating a separate category of rights that do not fully match those of heterosexual couples on subjects like adoption, according to gay-rights advocates. The Spanish bill, by contrast, simply takes existing law and adds a sentence saying that all married couples will have the same rights regardless of gender.
POST/READ COMMENTS