One hour of glorious full-frontal male nudity.

That's something you don't see everyday on Singapore stage. But that's one of the things you'll see in Quills, a bold new theatrical production about the notorious Marquis de Sade who was imprisoned for writing erotic novels at the turn of the eighteenth century.

But don't get the wrong idea. Quills is an award-winning play written by Doug Wright in 1995. In 2000, it was turned into an acclaimed movie starring Kate Winslet and Geoffrey Rush. It certainly isn't some "tiger show" with gratuitous nudity.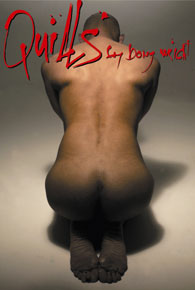 Mumbai-born British-trained Rehaan Engineer, who plays Sade, will drop his pants for the whole of Act 2.
Yes, the lean and handsome actor playing Sade, Rehaan Engineer, does display his masculine glory for the whole of Act 2. But Rehaan says: "If all the audience does is stare at my schlong, then my whole performance would have failed. The whole play would have failed."
Hmm. perhaps he's being too hard on himself. Surely, the size and aesthetics of his schlong will also determine how long we stare it, no? (Read our naughty interview of him on the next page.)
Size matters aside, this 2-hour play is a literate and sophisticated examination of artistic freedom. Sade was a man who fought all his life to be allowed to express himself in his erotic writings - regardless of what people may have thought of them.
Samantha Scott-Blackhall, the Singapore-born director of
Quills
, says: "Sade believed that everyone, no matter who they were and what they did, had the right to express themselves. He thought that if you were able to think it, you should be able to express it. If you had a sexual experience, then you should be able to talk about it with others."
Wow! Samantha speaks like a gay rights activist, even though she isn't gay.
Of course, Sade's sexual activities sometimes bordered on the extreme. It is no coincidence that the words "sado-" (as in "sado-masochism") and "sadism" come from his name, Sade. His novels were sexual, violent and blasphemous. They included
120 Days Of Sodom
, which inspired the brutally-explicit film Salo by famous gay director Pier Paolo Pasolini in 1976.
But
Quills
the play is not concerned about Sade's infamous orgies or the details of his erotica. And you won't be see any graphic re-enactment of his sexual activities on stage either. As Samantha says: "If you come to
Quills
hoping to see some sex on stage, you'd be disappointed. The play is titillating - but to the mind, not to, um, somewhere else."
What you get instead are fiery, intellectual debates on the importance of art and passion, and the dangers of censorship and repression. So let's be clear on this: There's no sex on stage, boy and girls - but there are very powerful debates on the rights of individuals to express themselves in whatever ways they wish to.
Quills
is not about sex, but about a man who is obsessed with sex and insists that he isn't mad or breaking the law by having lots of it.
When the play begins, Sade has already been arrested by Napoleon for writing the erotic novel
Justine
. Placed in a mental asylum, Sade is given quills, ink and paper to continue writing his tales of debauchery - though he is not allowed to publish any of it. The kind priest in charge of Sade encourages him to write out his fantasies as a way of purging his dirty thoughts.
But Napoleon later discovers that Sade is smuggling his writings out of the asylum to the wider public with the help of the pretty laundress Madeleine. Infuriated, he orders the vicious and unforgiving Dr Royer-Collard to take over the case. At first, the doctor removes Sade's paper and quills from his cell to prevent him from writing his "smut." So Sade uses his wine to write on his clothes. And when the doctor takes away his clothes and wine, Sade continues writing using his own blood and excrement.
But that is how we come to the wonderful Act 2 featuring a completely naked man.
Still, whether you're looking forward to the nudity or not, the play does boast a very fine cast and crew. Director Samantha has been making waves in the theatrical scene for a few years now, and was crowned Best Director of 2004 at The (Singapore) Straits Times Life! Theatre Awards in April.
Acting powerhouse Lim Kay Tong will play the cruel Dr Royer-Collard, while Sade's wife will be played by the ever-reliable Karen Tan.
The play also stars sweet-faced ingénue Mariel Reyes as the innocent laundress Madeleine, who was played by Kate Winslet in the movie version. Mariel is a comely 20-year-old theatre student at Lasalle College of The Arts, and should provide a bit of eye-candy for the lesbian audiences getting impatient with all this male nudity.
Mariel also has one of the best lines in the play. When the priest asks her why she likes to read the pornography which Sade writes, she replies: "If I wasn't such a bad woman on the page, I couldn't be such a good woman in my life."
Amen!
Quills will be staged September 16 - 25, 2005, at 8pm (except Sundays). Matinees on weekends at 3pm (except Saturdays) at the DBS Arts Centre - Home Of The SRT, 20 Merbau Road, Robertson Walk, Singapore 239035. Tickets are at $47 & $42 (Evening Performances), $37 & $32
(Matinee Performances). Fridae readers enjoy a 15% discount off tickets prices when you get your tickets from Sistic counter/hotline booking with the password "Be Swallowed. Be Succumbed." Tickets available at all SISTIC outlets. Call SISTIC Hotline 6348 5555 or visit www.sistic.com.sg.

(Click on the next page for the man who's dropping his pants.)
---
If you must stare at my schlong..
No play in Singapore has ever featured male full-frontal nudity for a whole hour before. And luna-id, the theatre company staging Quills, certainly spent a lot of time convincing the Media Development Authority (MDA) that the nudity was essential to the
play.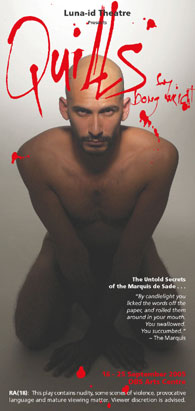 'If I'm doing my job right, nobody will be staring at my schlong,' says Mumbai-born British-trained Rehaan Engineer.

Fridae simply had to get up close and very personal with the man who's going the full monty for art. His name is Rehaan Engineer, a lean, dashing, 1.82m tall Mumbai-born British-trained actor who has impressed theatre audiences here with strong performances in previous luna-id productions. In person, Rehaan is charming and debonair, with a dry English wit - sort of like Robert Downey Jr before he started taking drugs.

æ: It's very brave of you to bare it all for the stage. We haven't seen male nudity for a long time on Singapore stage.

A: Yes, that's why Samantha, the director, had to have a long talk with MDA about it, telling them why it mattered to the play and why it had to be understood in the right context.

æ: Have you done nudity before?
Rehaan: Yes, in drama school, we had some class-work and productions where I had to drop my pants.

æ: Be still my beating heart! Which school is this? I'd like to enroll.
Rehaan: That would be the Royal Academy of Dramatic Arts in London.

æ: Aren't you a little young and handsome to be playing the old Marquis the Sade? In the 2000 movie version, Sade was played by the middle-aged and haggard-looking Geoffrey Rush.... Don't get us wrong though - we're glad you don't look anything like Geoffrey.
Rehaan: Yes, the Marquis is supposed to be 70 in the play. And I'm 29. We're going to use some special make-up to make me look much older.

æ: Hmmm, I'm reminded of how they tried to age Leonardo DiCaprio in the film The Aviator. He still looked incredibly young and hot in his nude scene. Are you going to shave or anything?

Rehaan: Hahaha. Shave? Erm, you mean, my face? Whatever do you mean?

æ: Oh, if you don't get the question, then the answer is no. Are you also going to the gym regularly to work on your body before you go on stage?
Rehaan: No, I'm playing with a 70-year-old man. I don't think a six-pack is a good idea.

æ: Damn it. Any sexy tattoos on your body that we should look out for?
Rehaan: Hahaha. No, I don't have any tattoos. Um, I hope everyone realises that the nudity here isn't sexual. Dr Royer-Collard strips Sade of his clothes because he wants to turn Sade into this helpless naked creature in his cell alone. Stripping Sade of his clothes is Royer-Collard's way of demonstrating his power over Sade.

æ: Do you mind having some women and men stare at your schlong.
Rehaan: If I'm doing my job right, nobody will be staring at my schlong. My job is to communicate the extraordinary events that are occurring in Sade's life. If all the audience does in Act 2 is stare at my schlong, then my whole performance would have failed. The whole play would have failed.

æ: You really shouldn't be too hard on yourself - it could well be a compliment. But listen, what are you going to do if some people kept staring at you down there instead of paying attention the play?
Rehaan: Hahaha. What can I do? People will be interested in what they're interested in.

æ: You're so accepting and non-judgmental. Have you got any particular fetish that's similar to the Sade?
Rehaan: Hahaha. I have a thing for people with limps. I'll say no more.

æ: What turns you on the most?
Rehaan: Nice hands, and the patterns of hair growth at the back of people's necks.

æ: Would you like to see the pattern of hair growth at the back of my neck?
Rehaan: No, thank you.