Singapore's First Gay & Lesbian Community Fair
For the first time in Singapore, a variety of LGBT community groups will have a fair day in conjunction with the relaunch of Pelangi Pride Centre - Singapore's first and only LGBT resource centre cum library - on Saturday, May 6.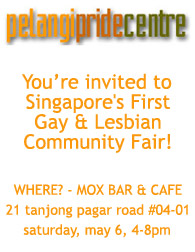 From sports to spirituality to social events, attendees will be able to meet organisers and members and "sign up" on the spot. Groups include ADventurers Like US (Adlus) which organises regular and seasonal sports and adventure activities, Action for AIDS MSM Programme which provides sexual health counseling, Free Community Church: an all-inclusive Christian congregation, Heartland: a LGBT Buddhist group, Oogachaga: a LGBT affirmative support group, RedQuEEn!: a women's discussion egroup, Safehaven: a group of interdenominantial LGBT Christians, Sayoni: a women's web site and Women's Nite which organises a monthly social gathering.
To be held at Mox Bar and Café, there will also be performances by singer-musician Wendy Siew and singer-poet Cyril Wong who will also do a poetry reading.
Attendees will stand a chance to win Fridae Freebies including Nation.04 and Nation.05 music CDs, and one of two pairs of Nation.06 tickets (worth around S$600 per pair).
The Pelangi Pride Centre welcomes donations of LGBT-themed books for its library which is open to the public every Saturday from 4-8pm. Organisers are also seeking volunteer librarians, please enquire if interested.
MOX BAR & CAFE
21 Tanjong Pagar road #04-01
Saturday, May 6, 4-8pm
Mothers' Day Forum @ AWARE
The Association of Women for Action and Research (AWARE) is folding a forum on Sunday, May 7, to celebrate Mother's Day.
Titled Mothers & Daughters - Unconditional Love, the panelists in the forum will share their experiences as daughters who had come out to their mothers, mothers of gay sons and/or daughters as well as lesbians who are mothers themselves.
The informal panel discussion will explore issues such as homophobia, religious perspectives, parental expectations and what it is like for families living in to deal with homosexuality.
Panelists include Deeksha Vasundhra, Madam Yiap Geok Khuan (Eileena's mum), Eileena Lee, Khoo Hoon Eng, Suzanne Pemberton and Susan Yap.
AWARE is Singapore's first and currently the only advocacy group dedicated to promoting gender equality and understanding in Singapore.
Mothers' Day Forum (Men are welcome)
AWARE (Association of Women for Action and Research)
Blk 5 Dover Crescent #01-22
Sunday, May 7, 3-6pm
Light refreshments will be provided and any small donations toward the cost will be welcome.
To register, please email your name to
aware@aware.org.sg