When Singaporean photographer, Marcus Mok, titled his latest exhibition "Men Of Silk" - he wasn't fooling around.



See
All the Asian musculature on show appeared to belong to male models blessed with smooth silken skin - for there was nary a blemish in sight, not even on butt cheeks.
I should know - with my cleverly concealed magnifying glass, I poured over every pixel of exposed flesh with an intensity rivaled only by the forensic team from
CSI: Miami
.
Held from 20 to 24 June 2006 within the cool white interiors of Bianco (Level 4, Mox Bar & Café), the "Men Of Silk" exhibition celebrates the beauty of the Asian male form in all its naked glory.
With each exhibit functioning as the photographic equivalent of the gay man's lingering gaze over an object of desire, the exhibition successfully captures the curves and contours of the naked male body in an almost voyeuristic yet intriguing manner.
Showcasing a photographic style that will no doubt leave behind a trail of sticky magazine pages, the 27 photo exhibits by Marcus Mok featured outdoor
au naturale
shoots as well as intimate studio affairs - all of which combine to create a collage of visual wankery.
Indeed, I could almost feel my cheeks a-flushed with sexcitement while I gazed longingly at the tantalising twinkie known only as "Untitled 2005" and admired the bareback beauty of "Untitled 2003" (oh! what I would give for a butt that bubblelicious!).
Unfortunately, I was informed by Marcus that most of my favourite exhibits such as "Cheeky," "Embrace" and "Framed" would not be shown in Singapore as they had been snapped up when the exhibition debuted at Sydney's TAP Gallery as part of the Mardi Gras Festival.
Still, "Men Of Silk" with its pictures of pectoral propaganda could be considered something of a landmark exhibition in conservative Singapore with its unabashed display of male nudity.
Having said that, I cannot help but find the Asian-centric exhibits a little too coy since a good number of them appeared to be adopting the "make-sure-my-face-is-not-in-the-shot" style favoured by gay Internet profiles.
For future exhibitions, Marcus could perhaps consider pushing the envelope a little further and take a leaf from Greg Gorman's oeuvre by incorporating more dramatic poses and imbuing bodies with more character so as to capture the different and differentiating facets of the enigmatic (and picture-shy) Asian male.
On the whole, the "Men Of Silk" exhibition was an experience not unlike talking a walk through an understated version of Hieronymus Bosch's Garden Of Earthly Delights and there's no doubt that gay men en route to nearby clubs would find it to be a delightful preamble before hitting the party circuit.
As for myself, I would have enjoyed the exhibition more if I wasn't distracted by an inexplicable urge - after looking at exhibit after exhibit of men with impossibly flawless skin - to rush home and marinate myself in a tub of SK-II Miracle Water.
On the next page, Alvin talks to Marcus about his exhibition, his male models and how he copes with being around gorgeous naked men.
---
A Moment With Marcus
æ: Tell us more about your exhibition and why it's entitled "Men Of Silk."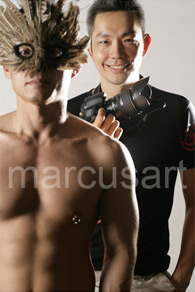 Singapore-born Marcus Mok had his first solo exhibition ''Men of Silk'' at the Sydney 2006 Mardi Gras.
Marcus: The exhibition is a collection of some of the best male nude images that I have created over the last three years. I did it for two reasons: self-gratification... and because I have never heard of or seen an all Asian male nudes exhibition. It is titled "Men of Silk" as it is a celebration of the Asian male form, and Asian men generally have smooth skin and silk is intrinsically oriental.
æ: How do you think Singaporeans would react to the homoerotic elements in your debut exhibition?
Marcus: As a matter of fact, I would say that less than 10 percent of my images are homoerotic. The majority are what I call fine art male nude photography. Singapore is slowly liberating and I would like to think that the general consensus on my work would be pretty encouraging. Ultimately, I would like the viewer to interpret the images in their own light... that's what art is all about.
æ: How would you describe your photography style?
Marcus: Two words: Spontaneous. Creative.
æ: Which photographer(s) do you look to for inspiration?
Marcus: One of my all time favourites is the late American photographer Herb Ritts. His styling is superb! For form and pose, Austrian photographer Andreas H. Bitesnich is excellent! I was actually quite surprised that I could get a copy of that in a local bookstore.
æ: Many gay men would consider your job one of the best in the world. What is it like really?
Marcus: Nothing could be further from the truth! (Laughs) It is interesting, but highly challenging mentally to have to keep creating images that are different because male nudes have been immortalised on photos for as long as I can remember. Apart from that, FUN FUN FUN! What can I say? It is possibly my favourite genre of photography!
æ: What do you think are the qualities a good male physique model should possess?
Marcus: The universal reply would be a great physique but a bloody good attitude and a willingness to try anything are important as well. Personally I prefer models with rugged good looks when photographing faces.
æ: Which Asian male celebrity or celebrities would you most like to photograph in the buff?
Marcus: Most definitely actor/singer Aniki Jin. I walked past him in New York 10 years ago... he is GORGEOUS and has a very charismatic face! I would love to photograph him even if he was in his clothes!
æ: Your photographic subjects are mostly naked gorgeous men - how do you stop your mind from wandering?
Marcus: The sign of a true professional is not being swayed by external influences while working. I would like to say that I belong in that category. I am very focused in my craft and I'm more excited when I have created a good image!
æ: Are you ever worried that working with beefcakes who bare-all would somewhat desensitise your appreciation of the male body?
Marcus: NOT AT ALL! Every individual is unique.
æ: Do you need a fluffer, I mean, an assistant for your future photo shoots?
Marcus: (laughs) I get that question a lot! So far I've ever only had two assistants in my shoots and they were friends of the models. Most models would feel uneasy having a third party around. But assistants are most welcome when I do strenuous outdoor locations!
æ: Thank you and best of luck for your exhibition.
See "Men of Silk" at Bianco, MOX Bar & Cafe (21 Tanjong Pagar Road) till Saturday, June 24. Open from 7pm till late.