A new book to be launched in Singapore next week will feature the coming out stories of 15 people from the gay, lesbian, bisexual and straight communities.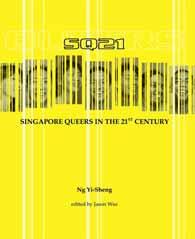 Singapore Queers in the 21st Century!
tells the stories of how a gay youth won his mum over, a young man who came out on national TV, two women who got married in an anti-gay church, a mother who is proud of her two gay sons and the challenges and triumphs of a hearing impaired gay man, among other inspirational accounts.
The book, which features the interviewees' full names and photographs, is the first project of its kind in the city-state where gay sex acts are still criminalised under Section 377 of the Singapore Penal Code inherited from British colonial rule.
Authored by Ng Yi-Sheng, the book is published by Oogachaga Counseling and Support, a sexuality affirming non-profit counseling and personal development organisation serving the GLBT communities, and will be launched on Aug 23 as part of IndigNation, Singapore's second annual Pride festival.
Singapore Queers in the 21st Century!
will be available at the launch on Aug 23 to be held at Mox bar and cafe, 21 Tanjong Pagar Road, #04-21 at S$20 nett and S$23 (with GST) at Kinokuniya and Borders after the launch as well as online on Fridae.com.
Next page, Sheila Rajamanikam and Nicholas Deroose talk to Fridae about baring all in the book.
---
æ: How did you come to have your story featured in the book?
Sheila: I was approached by Yi-Sheng, the writer of the book, and he asked to put in my story because he wanted to capture the diversity in the LGBT communities.
Nicholas: Well… let's just say I met my interviewer at the right place at the right time. :)

Sheila Rajamanikam (top pic) and Nicholas Deroose
æ: From the outset, the publishers wanted to not only have real names but photographs of its interviewees, was it daunting given that this is the first book of its kind in Singapore?
Sheila: I agreed instantly because I feel such work is so important. Coming out is an act of courage but you need to support your community by being out too. I needed to do it to help bring my own community as in the Indian community out of the closet and that it's okay. Also, I am completely out to family, friends, at work and in my religious circles. I work for myself and I am out to my family so it was easy to make the choice.
Nicholas: Before I had agreed to do the interview, I was told what was required of me and I thought to myself that yes, this is going to risk exposure but I would say nothing ventured nothing gained. I wanted to share my experience with others and I think by being honest and baring it all so to speak would give show that it is something that is honest and sincere. When I agreed to the interview, it all happened in a matter of days so everything went on really fast, I just decided why the heck not.
æ: How and when did you come to realise that you are lesbian/gay?
Sheila: I came out at 14 and had a wonderful girlfriend who taught me how to be strong and not hate myself. She is much older and I am still very grateful that she guided me the way she did.
Nicholas: I've always known I was different but I just did not know exactly what it was. Growing up, I knew subconsciously that I wasn't like the rest of the boys because I didn't like to do some of the things they enjoyed. For instance, when my male cousin went to play soccer, I would stay behind and play make believe with the rest of the girls. It was in secondary school - when I had my first crush on a classmate - that I realised more or less that I was gay because I was attracted to the same sex. But it was the Internet that really showed me what else there was to being gay. Finally in polytechnic, I met this really unique and wonderful bunch of people who belonged to an underground support group that was formed by youths for youths. So one day I decided to attend one of their outings and I have never looked back since.
æ: Who was the first person you told and how long did it take since you first realised?
Sheila: I told my best friend and my cousins (I come from a close knit family) and they all embraced me and accepted me readily. I told my parents before I left for overseas and they came to their understanding in the years I was away.
Nicholas: There really wasn't a person because the first time I came out was attending the support group's outing. I think the first person I actually said the actual words too would be to my good friend of more then 10 years who happened to be in the group as well. It's so funny because we have been friends since we were young but when we discovered we were both gay it was as if we had to start all over again and the last ten years was thrown out of the window or something.
æ: What are your coming out experiences with your family, friends, work life, etc?
Sheila: My brother laments my girlfriends are always more beautiful than his and asks for tips. My parents are very easy going and generally connect with my girlfriends. Most of my friends are from the LGBT community. Workwise- my gayness is an asset.
Nicholas: I remember when I came out to some of my polytechnic friends, they were quite shocked because they could not believe it. At the time, I was very active in sports and they subscribed to the stereotype that gay men don't do sports. So when I came out to them, they were like, "No way... this is a joke right…" or, "You must be kidding!" I remember this girl friend of mine sat me down for a 45-minute talk to find out the truth but all she kept asking was "Why? Why are you gay?"
æ: Some say "coming out" is an important part of social activism where the personal is political, and by coming out, every gay person (even non-activist types) can educate the people he or she cares about to be more understanding and/or accepting of gay people in general. For many who say they "have to" be in the closet, they believe that the costs outweigh the benefits. Many psychologists and out gay people however believe that while coming out can be difficult, it is often a key for a happy and more fulfilling life for an LGBT person. What are your thoughts?
Sheila: I believe that everyone follows their own process in taking that walk out of the closet. At the end of the day, our heart tells us how to be true to ourselves. It's a personal process. And then guiding the people you love in that process... One has to be patient to give time to our loved ones because we took our time in that process ourselves.
Being out allows me the freedom to be myself. It's about being true and strong and at peace with myself. I remember that as I come out more and more, queers in my own community approach me and I am able to walk with them through the journey of coming out. First you have to come out as gay then also acknowledge that we are from different cultures and religions, and not to leave queer or our cultural identity at the door.
Nicholas: I believe it is true that coming out can be a form of education. We have to educate people and we can only do so by being living examples and showing that we can be gay and still lead happy lives. To do this requires the courage to come out and this can make one vulnerable. That is why I don't blame them - sometimes, we are restricted by circumstances. We fear that by exposing ourselves to the ones we love, it might hurt us more than them if they are unable to accept us. But the question should be, if they love you would they reject you? Do they love who you are or what you are?
My coming out to friends was like an acid test to see if they would love me for who I am, and I am glad to say that all of them have stuck by me. I believe that open communication and honesty is sometimes the best way to get through to people. If you are willing to open up and become vulnerable, it would show that you are sincere and I think people would appreciate that.
æ: Lance Bass of 'N Sync, who recently declared that he is gay, is said to have been first outed by gay gossip guru Perez Hilton who posted articles about Bass' sexual orientation on his Web site since last year. Hilton was quoted on MSNBC.com defending his stance on outing celebrities: "I know there is some controversy about outing people, but I also believe the only way we're gonna have change is with visibility." He added, "And if I have to drag some people screaming out of the closet, then I will." Do you agree with that?
Sheila: We have only the power to make choices in our own lives. I think that it's only respectful to allow individuals to come out at his or her own free will.
Nicholas: He has a point. The act might be well-intended but the means is questionable as it did not take into consideration the rights of the other party.
æ: Finally, how do you hope for the book to make a difference to gay people who are afraid to come out and to society at large?
Sheila: I think that it will give strength and I hope, courage, to those who are still struggling to know that they are not alone and to know that others have taken that journey before them and are living wonderful and healthy lives.
Nicholas: I hope this book will show the many different faces of LGBT individuals and to inspire people out there to not be afraid because if he can do it, why not I?
Singapore Queers in the 21st Century!
will be available at the launch on Aug 23 to be held at Mox bar and cafe, 21 Tanjong Pagar Road, #04-21 at S$20 nett and S$23 (with GST) at Kinokuniya and Borders after the launch as well as online on Fridae.com.