British anti-gay activist/group uses YouTube to protest new anti-discrimination laws
An anonymous British anti-gay activist/group has posted a video on YouTube to protest the UK's new anti-discrimination laws which will prohibit discrimination on the grounds of sexual orientation in the provision of goods, facilities and services, including schools.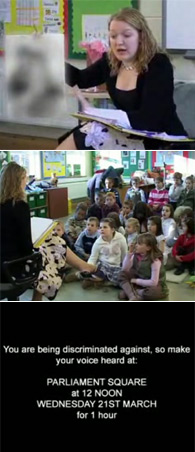 The 3-minute and 15-second video shows a female primary school teacher telling young students about gay and bisexual sex, encouraging experimentation, "alternative families" and having numerous mummies and daddies "all enjoying having sex with each other" to a group of small children.
The 3-minute and 15-second video erroneously claims that "the government is determined to pass a law that will, among other things, force schools to teach homosexual sex and relationships to children of all ages in schools" and the law "is being rushed through so Parliament cannot even debate it and no one can protest."
It shows a female primary school teacher telling young students about gay and bisexual sex, encouraging experimentation, "alternative families" and having numerous mummies and daddies "all enjoying having sex with each other" to a group of small children. When one of the kids starts crying, the teacher chides, "You're only crying because you're homophobic!"
The highly controversial Sexual Orientation Regulations (SOR's) have been ratified by a vote on Monday in Parliament. Despite criticism of the rushed process, the MP's voted 310 votes to 100 to pass the regulations without amendment. The law will be voted on in the House of Lords on Wednesday and, if passed in the Upper House, will come into effect in the rest of Britain April 30th. Faith based groups will have 21 months to adjust their policies accordingly.
The video is believed to be linked to Christian groups who oppose the Sexual Orientation Regulations (SORs) such as CARE, The Christian Institute and the Evangelical Alliance.
Dr Don Horrocks, head of public affairs at the Evangelical Alliance said: "We do not support discrimination against gay people. "But equally Christians don't want to find themselves coerced by law into facilitating the promotion of homosexuality."
He added: "… you cannot legislate against conscience. We shall therefore be advising our members to continue to serve their communities as Christians have done for centuries unless and until the law shuts them down."
The video titled, "What The Government Doesn't Want You To Know," encourages viewers to rally outside London's Houses of Parliament on Mar 21 to protest.
A Department for Education and Skills spokesman has responded to the video, saying that "it is inaccurate to suggest that the regulations will require schools to promote gay rights or homosexuality in schools."
George Broadhead, secretary of the Gay and Lesbian Humanist Association, said: "This is the biggest and most united religious campaign we have seen for a long time, and Wednesday - when the regulations go to the House of Lords for final approval - will be crunch day. If they succeed, they will have severely retarded the push for LGBT equality, and it will spur them on to other actions to push our rights back even further. If they fail, they will have been given the message loud and clear - Britain no longer wishes to be bossed about by clerics. It will be the best argument for getting the bishops out of the House of Lords once and for all. And it will send a message to the bigots that they will not prevail."
Related videos:
Melbourne man staged orgies 'to pass on HIV'
A Melbourne man has appeared in a Magistrates' Court charged with 122 offences stemming from having sex with 16 men knowing that he was infected with HIV.
Michael John Neal, 48, is accused of infecting two people with HIV between 2000 and 2006.
Prosecutor Mark Rochford told the court Neal's reason for infecting other men with HIV was to increase the number of men he could then continue to have unprotected sex with. He said that Neal has demonstrated an intention to infect people with HIV, "adding that not all of the people who attended his parties - whom he referred to as "conversion parties" - were aware of his intent to infect others.
When interviewed by police, Neal denied deliberately infecting people with HIV and said that he had a document from a doctor saying the chances of him infecting others was very low.
A witness who cannot be named told the court that Neal told him in 2005 that he had been targeting teenage boys in suburban toilet blocks to "breed" them — a term used to describe intentionally infecting someone with HIV. Neal also allegedly wore a penis piercing to increase the rate of transmission when he had unprotected sex, the court was told.
The court also heard that the Victorian health department was told eight times in five years since 2001that Neal was deliberately trying to infect other men with HIV, according to a testimony by Victoria's Chief Health Officer, Robert Hall. The father-of-five and grandfather was reported to police only after health authorities were told in December 2005 that he possessed child pornography.
The committal hearing before magistrate Peter Reardon continues.
US Baptist minister under fire for 'gay baby' remarks
A leading figure in the Southern Baptist firmament.has incurred criticism from gay groups and fellow conservatives after he wrote in his blog that a biological basis for homosexuality may be proven, and asked whether parents might be open to trying future prenatal techniques that would reverse homosexuality.
The article, published March 2 on Rev. R. Albert Mohler, Jr.'s personal web site, carried a long but intriguing title: ''Is Your Baby Gay? What If You Could Know? What If You Could Do Something About It?''
Citing an article titled "Is Your Baby Gay?," in the pop-culture magazine Radar, he related a scenario set out by the writer asking if a woman, who was told that her unborn baby boy is gay, would wear a hormone patch on her abdomen to "reverse the sexual orientation inscribed in his chromosomes."
Mohler said he would strongly oppose any move to encourage abortion or genetic manipulation of fetuses on grounds of sexual orientation, but he would endorse prenatal hormonal treatment - if such a technology were developed - to reverse homosexuality. He compared the treatment to be no different, in moral terms, to using technology that would restore vision to a blind fetus.
In a follow-up article on his blog, the president of the Southern Baptist Theological Seminary in Louisville acknowledged that he irked many fellow conservatives by suggesting that a biological basis for homosexuality may be proven as many conservative Christians believe that homosexuality is a "sin" and "disorder" can be overcome through prayer and counselling.
The news has prompted gay rights groups to accuse Mohler of hypocrisy.
"He's willing to play God," said Harry Knox, a spokesman on religious issues for the Human Rights Campaign, the largest gay-rights group in the US. "He's more than willing to let homophobia take over and be the determinant of how he responds to this issue, in spite of everything else he believes about not tinkering with the unborn."
"What bothers me is the hypocrisy," said Jennifer Chrisler of Family Pride, a group that supports gay and lesbian families. "In one breath, they say the sanctity of an unborn life is unconditional, and in the next breath, it's OK to perform medical treatments on them because of their own moral convictions, not because there's anything wrong with the child."
Related Sites:
Albert Mohler.com
Church of Sweden will perform gay weddings
The Church of Sweden has announced on Tuesday will perform wedding ceremonies for same-sex couples if the Swedish parliament changes the current legislation to include same-sex marriage. The church already performs blessings of civil unions.
In Sweden, civil unions have been legal since 1995 and confer most of the benefits and obligations of marriage. In August last year, a parliamentary committee concluded that the civil-union law was outdated and recommended that the government allow full same-sex marriage.
Sweden is found to have the second-largest public approval ratings for legalising same-sex marriage, according to the Angus Reid Global Monitor which conducted a poll regarding EU integration and social attitudes. It found that 71 percent of Swedes approve of same-sex marriage and 51 percent of Swedes approve of adoption for same-sex couples.
The church would join the United Churches of Christ, which already celebrates same-sex weddings, as do some Reform Jewish synagogues and the Unitarian Church and Metropolitan Community Churches in North America.
Same-sex marriage is currently legal in the Netherlands, Belgium, Canada, South Africa, Spain and the state of Massachusetts, while Israel this year began recognising same-sex marriages performed outside the country.