It's 1991. Johann S. Lee, a 19 year-old army boy, writes Singapore's first gay novel, Peculiar Chris. It's the story of Christopher Han, a privileged young man who struggles with love, homophobia and death in school and the army - a text immediately recognised by gay readers as a moving tale and groundbreaking work, one of the precious few documents in which they can see themselves represented in a sympathetic light.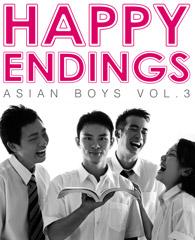 Happy Endings: Asian Boys Vol 3 stars an ensemble of both new and familiar faces including Lim Kay Siu, Karen Tan, Timothy Nga, Ben Seow and Pierre Goh.
Fast-forward to 2003. Alfian Sa'at, a playwright-cum-poet-cum-social-activist, writes an email to Johann, who's now based in London. He asks for permission to adapt
Peculiar Chris
into a play - but not through a direct transcription of events. He imagines writing about what happens to the characters as they grow older; even creating an imaginary author as a character in the play.
Eagerly, Johann agrees. And Alfian gets to work.
Come July 2007, we'll finally see the fruits of this idea, sixteen years in the making. Local theatre troupe W!ld Rice will stage
Happy Endings: Asian Boys Vol 3
, starring an ensemble of both new and familiar faces including Lim Kay Siu, Karen Tan, Timothy Nga, Ben Seow and Pierre Goh.
In conjunction with the performances, director Ivan Heng has also arranged Art and Life sessions: public forums to discuss related issues, including the illegal status of gay male sex in Singapore as upheld in the Penal Code's Section 377A and the forces of inspiration behind queer writers and artists here.
And as promised,
Happy Endings
will be an adaptation with a difference: Act One will narrate the events of
Peculiar Chris
, while Act Two will take place a decade and a half later, following the explosion in Singapore's gay culture. Johann's characters will reappear, all older and changed in some way - some of them hard-core clubbers, and others transformed into born-again conservatives.
Crucially, Alfian says he's exploring the theme of how gay men cope with ageing: an issue made more relevant by the fact that he's turning thirty this year (though he retains all his boyish waggishness and charm). It'd be fascinating to interview him about
Asian Boys Vol. 1
and
Landmarks: Asian Boys Vol 2
, as well as his claim that this is his last gay play ever - but he's been very much in the spotlight recently, due to his sudden dismissal as a relief teacher by the Ministry of Education [Click here to read
Teacher unaccountably terminated
by Alex Au] - an experience which he says he's incorporated into his play.
We at Fridae have decided to interview a lesser-known figure: Johann S. Lee, the boy who started it all, back in the bad old days before Internet, PLU or even legally tolerated gay clubbing; a time before queer community, when a book was a source of vital comfort that let us know we were not alone.
Next page: Johann S. Lee talks about writing how he ended up publishing a book about his experiences after returning from a life-altering holiday in Sydney and how Alfian came to adapt it for his latest play.
---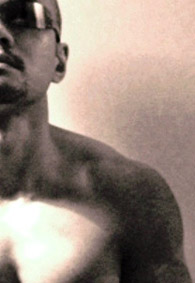 Johann S. Lee wrote Peculiar Chris, Singapore's first gay novel, while serving his National Service in 1992.
æ: Age, sex, location?
Johann: 36 years exactly (as I'm being interviewed on my birthday, June 18)/ male/ London
æ: We've known you as Johann S. Lee for some time... is this your real name?
Johann: Yes, though I go by the name of Joe these days.
æ: Tell us about the writing and publishing of Peculiar Chris.
Johann: I wrote a journal entry in 1992 when I returned from a life-altering holiday in Sydney. I showed it to my best friend (Daren Shiau, now author of
Peninsular
and
Heartland
) who said, "This is good. You should write a beginning and an end, and make a novel out of it." So I did!
The book was a cathartic experience, but not autobiographical. I felt I had something to say, and I had plenty of time to put pen to paper whilst serving out my National Service in a quiet clerical role in a god-forsaken unit in Woodlands. When I say 'put pen to paper', I
mean
put pen to paper. I didn't have a PC at the time - every word was written in longhand, and I paid a fellow NS clerk five cents per word to type out everything in Wordstar.
None of the major publishers (TIMES, MPH, etc) would give me the time of day. I am eternally grateful to Mr Tan Wu Cheng (proprietor of Cannon International, a very small local enterprise) and his wife Alice for meeting with me and agreeing to publish my writing.
Peculiar Chris
went to print with no editing at all. In fact, in the first edition, the word 'embarrassed' was misspelt as 'embarassed' in every instance.
æ: When and why did you leave Singapore? What was being gay in Singapore like in those days?
Johann: I left Singapore in September 1992 to read Law at King's College London, about three months after R.O.D. and a month after
Peculiar Chris
was published. In truth, my raison d'Ítre at the time was to run away from family, from Singapore... to be free... to be, well, gay.
In the early 1990s, there was no 'gay scene' as such in Singapore, and no Internet. As I recall, gay men converged at places like Plaza Singapura, Raffles City, The Warehouse (a disco in River Valley, across the river from Zouk, which opened around that time). There was a gay Sunday nighter but it kept moving from one venue to another because the police kept raiding it and closing it down.
æ: How is life different for you now in the UK? (Dare I ask if you're still single and available?)
Johann: I now work in a large professional services firm in London, where I am openly gay and immensely proud of the organisation's commitment to the Diversity agenda. In all my years in London, I have never experienced discrimination because of my sexuality. I have been single for the last five years.
æ: Do you still visit Singapore? Are you in touch with the gay scene here?
Johann: An annual visit to Singapore is a must as I have family and close friends there. When I do visit I tend not to go to the gay venues, though I confess I have been to The Towel Club once!
I don't particularly enjoy the gay scene, not anymore, not even in London. As for Singapore, I have mixed feelings about how the scene has evolved, but will reserve comment until I have seen Alfian's play.
æ: Tell us about your involvement with the collaboration.
Johann: When Alfian first got in touch with me several years ago requesting permission to adapt
Peculiar Chris
, I didn't have a clue who he was. So I asked my friend Daren Shiau, who described Alfian as 'a prodigious young talent, the Singapore arts scene's enfant terrible'. Alfian sent me
Asian Boys Vol. 2
to read, which I did. It made me laugh, made me think, made me cry, made me seethe. And so I said 'yes' to him instantly, and unconditionally. When I found out later that Ivan Heng was to direct, I knew the project was in very safe hands. I am extremely comfortable with having zero artistic input into
Happy Endings
, and have complete faith in Alfian and Ivan's joint artistic vision.
Some really nice things have been said about
Peculiar Chris
over the years. The word I used to describe my state of mind when the book hit the shelves was 'incredulity'. In the years thereafter, what followed was a period of embar(r)assment that someone actually allowed my gawky post-adolescent ramblings to go to print. But these days, I'm feeling a new kind of incredulity. And it's nice. I can't wait for the opening night of
Happy Endings
, and I am counting on those around me to pinch me throughout the show.
Action For Aids is negotiating plans to reprint
Peculiar Chris
in conjunction with the play. The charity will receive benefits directly from the proceeds. Older editions of the novel can be found at the Pelangi Pride Centre Library.
W!ld Rice presents:
Happy Endings: Asian Boys Vol.3
(18 and above)
Produced by W!ld Rice
Date: 11 - 29 July 2007
Time: Tue-Fri, 8pm; Sat-Sun, 3pm and 8pm
Venue: Drama Centre Theatre
Tickets: Preview Shows
(11 & 12 July) 8PM
S$48, S$43, S$38, S$33, S$33(Restricted View)
Tues-Thurs & Sun Evening 8PM, Sat & Sun Matinee 3PM
S$53, S$48, S$43, S$38, S$38(Restricted View)
Fri & Sat Evening 8PM
S$58, S$53, S$48, S$43, S$43(Restricted View)
Excludes $2 Sistic Booking Fee
Available at Sistic
The Art & Life Sessions
Engage with the most interesting, forward thinking minds of our "concerned citizenry" to reflect and debate the issues raised and challenged by
Happy Endings
.
Venue: Function Room, Drama Centre @ National Library Level 3
15 July 5:30pm - PECULIAR LEGISLATION: S377A - Symbol or Statute?
22 July 5:30pm - PECULIAR ADAPTATIONS: Crossing Mediums - Fresh Afterlife or The Living Dead?
29 July 5.30pm - PECULIAR INSPIRATIONS: The Muse - Of Sirens and Tyrants
Feedback Fridays
Enrich your theatre-going experience. Meet the Artist and discuss what you've seen at a post-show discussion immediately following each Friday evening's performance (20 & 27 July).