Leona Lo, the author of the first transsexual autobiography to be published in Singapore, was asked to leave a bar known as The Pump Room after being told that it did not welcome "lady boys."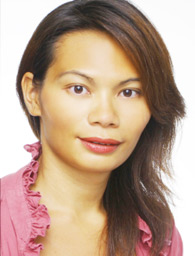 Leona Lo, author of From Leonard to Leona, the first transsexual autobiography to be published in Singapore.
The author of
From Leonard to Leona
said she was approached by a bouncer while she was dancing at the Clarke Quay nightspot with her friends early Saturday morning.
In an email to the media over the weekend, Lo said that despite trying to explain that she is a transsexual author raising awareness of transsexual issues in Singapore, the supervisor whom the bouncer summoned reiterated that the club did not welcome "lady boys."
Feeling "enraged at being called a lady boy and being discriminated against," she had refused to show the bouncer her ID although it states female as her gender.
"Sorry, this not my policy, this the bar's policy. Our clients don't like. You not happy please leave." Lo quoted the supervisor as saying.
When contacted by Fridae, Bill Graham, a director of The Pump Room, said in an email that the club is still "trying to patch together a picture of exactly what happened that night" as their security staff are largely part-timers especially on weekends.
He added that the club has "no policy excluding any groups whatsoever excepting those who are below our recommended age limit, are in breach of our very reasonable dress code, or people who are behaving inappropriately or have done so in the past."
The British-educated 32-year-old, who runs her own public relations consultancy, told Fridae that she is not "looking for an apology - but the opportunity to conduct an hour-long lecture on gender diversity for the bouncers and their management."
"In the States, when there are acts of discrimination, people are sometimes sentenced to community service. In this instance, I will undertake the 'community service' myself."
When asked why she had alerted the media to her experience, she explained: "If this could happen to me, it's probably happening to lots of transsexuals on a regular basis. In the past, transsexuals used to live under the sword of fear, and no one stood up for them."
"I feel it's my duty to stand up to the bullies - and that's what they are, bullies. Bullies try to strike fear in the hearts of the more socially vulnerable. But in so doing, they also reveal themselves to be cowards."
"I hope to promote understanding and compassion among Singaporeans for those they perceive to be 'different.' I believe in promoting awareness through peaceful methods. Awareness has already been raised in
Today
and
Shin Min
(a Chinese-language daily), so I'm happy with this."
Both Lo and the management of the Pump Room have said that they will be in touch to seek a resolution to the matter.
Since 1996, Singapore has recognised the right of transsexuals to marry in their reassigned sex.
A review of
From Leonard to Leona
will be published later this week, watch out for it!