Spoiler Alert: Several new and upcoming seasons of current television programs will be mentioned. Click here to read "Is Your TV Tuned To Pink?" (published Dec 1) by Helmi.


On the surface, the article seems to indicate that things have turned for the better, that there is progress and representation for the LGBT community in the media. Well yes and no.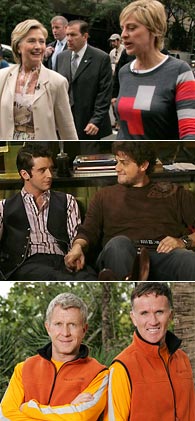 From the top: Presidential candidate Hillary Clinton with lesbian talk show host Ellen Degeneres,;Ugly Betty's Mark with Cliff, photographer; and life partners Bill and Joe from Season 1 of The Amazing Race and All Stars.
It is indisputable that Executive Producer Ron Moore did an excellent job with the remake of the sci-fi classic series,
Battlestar Galactica
. Many of you might not have seen this as it is only shown in Asia on Cinemax, the poorer cousin of HBO. In the US however, it has been lauded as the best thing since sliced bread by both hard-nosed critics and audiences.
What is the relevance of the show to this discussion?
In a startling new development in the BSG universe, shown just this past November before the writer's strike crippled the TV industry in the US, one of the characters came out. In a one off episode called "Razor," Rear Admiral Helena Cain, is seen sharing a tender passing moment with a 'friend'. The ship's crew comes to eventually realise that the 'friend' is her female lover. How is this revealed? Through a gentle kiss on the cheek, loving looks at one another, a discussion with a younger officer about how everyone has needs. All insinuated. All plausible without going through open dramatics. And that was that.
That is the beauty of subtlety in some American television programming today. Diverse relationships are taken as a normal fact of life.
Cut to the current season of the Emmy winning comedy
30 Rock
. Created by
Saturday Night Live
alumni, Tina Fey, it is one of those shows that got picked up by the network in the US, but has to go on cable in Asia. Why? Well, for one thing, the humour is smart. For another, they sometimes take a no holds barred approach to issues, be it race and yes, sexuality.
In one episode, a straight (and yuksome looking) character decides that he has suddenly fallen in love with a handsome younger man. Some of you might sympathise with the notion, especially those questioning their position on the Kinsey scale, that a man can 'turn gay' for that one specific same gendered person. The story arc is of course funny, for even as this may be the fantasy of some people, his attempts to be one straight man wanting to be together with just that particular straight man goes largely unrequited.
Interestingly, the story is not conceptually insulting. In fact, when another character decides to act the child and openly makes fun of the infatuated man for 'turning gay' (read: "Oh he's gay, he's gay, ha ha ha"), everyone else simply does not respond. What would have been funny in the '80s is just a shoulder shrug in the new millennium.
What does
Battlestar Galactica
and
30 Rock
have in common?
In the US, stereotypes are on the way out. Sexual orientation is a non-issue, especially in places where the LGBT community has a strong political and economic voice. Certainly, the pink dollar is highly prized by corporate America, with anything from car companies to banks having specific programs targeted at the LGBT market. If media is a reflection of societal norms, progressions and aspirations, then the US is headed towards the acceptance and integration of sexual diversity. Media giant Viacom, the parent company of MTV, launched Logo, a network for gays and lesbians the summer of 2005. Gay-friendly programming and production have already seeped in mainstream networks, symptomatic of a need tap into the attractive demographic.
How about TV in Asia. Of course we all want to believe that we are living in a time of change and greater acceptance. But where is that change really existing? Sure, we get American TV here. And while some believe that there is a climate change generally in how we are perceived in the media, perhaps things are not that progressive this side of the world.
To begin with, the pink demographic is still not a target for the network suits in Asia (even though many of the suits themselves are pink, not grey). And programs from the US that make it to our shores are subjected to local programming policies. In Singapore, this means that any references that shows the LGBT community as positive are immediate squashed. Of course this does not mean that 'good natured' exploration about gay stereotypes will be censored. Those, like scenes featuring flamboyant queens, are kept. They are after all, humorous, especially those who are depicted to be fashion designers or hair stylists in appropriately loud outfits.
In a season opener shown on cable network
Star World
, talk show host Ellen Degeneres grilled Presidential candidate Hillary Clinton on the fact that the Senator does not support gay marriage. Ellen went out to declare that she is gay and the issue is important to her as a voter. Did that episode make it to Channel 5, Singapore uncut? Go write to your network and find out.
In the second season of
Ugly Betty
, not yet shown in Asia, the flamboyant assistant, Mark, falls in love with a (gasp!) portly photographer. The story line is developed over several episodes, showing the ups and downs of a 'real' relationship. Will this be shown in totality? Let' see. The controlling body of media in Singapore, the Media Development Authority, however, states this in their website:
"We do not disallow the broadcast of homosexuality on TV as long as the presentation does not justify, promote or glamorise such a lifestyle. Controversial subject matters or themes can also be explored if they are presented sensitively."
This whole statement is very subjective, and highly dependent on the time of day, the cycles of the moon, and weather patterns. So, if you see two men in a loving relationship like Bill and Joe in a past season of
The Amazing Race
kissing in happiness, is that glamorising homosexuality? On Singapore flatscreens, the two gay men were 'allowed' to be seen on the show, but what audiences may not know is that the couple's openly affectionate scenes were cut from the local broadcast.
So, does this mean that a loving relationship 'promotes... such a lifestyle'? Is there some fear that kids who see two adults openly loving each other may actually follow in their footsteps? I suppose the answer to that, for some, is yes.
What does this all mean?
Yes, there are more openly gay characters on TV today. In Asia, it seems however more likely that they need to contributing to some form of stereotypical humour to be viable for broadcast. Like the one Helmi proudly quoted as a clear example of change, a choreographer on the
Pussycat Dolls
show, who is 'a swishy male... in a T-shirt two sizes too small,
snaps
his fingers and
screams
out his commands to the poor pussies'. Or the flamer Mark in
Ugly Betty
. Or even the seemingly butch Ellen.
It must be a proud day for us that there is a greater showing of stereotypes whose characters are not allowed to be explored on local TV. Gay characters may as well be polka dotted elephants as the truth behind the characters are often taken out. In Singapore, all references pertaining to Ellen's real life relationship with Portia De Rossi are snipped to the extent that even my mother believes that Ellen is simply a tomboy. She is funny, she likes to wear pants, and she doesn't have sex even though she is way past 40. Truth is, in Asia, the mental visual of a gay person actually living the full human experience (that includes sex and intimacy), may still be too much to handle. Much like seeing animals engage in cannibalism on the National Geographic channel.
Therefore, with clear and distinct reference to Asia and the LGBT community here, the question is: Is this progress? Is this something we should be proud about? Are we truly being represented completely without prejudice?
The media plays both the role of society's voice as well as the shaper of reality. If all general society see of gay people are stereotypes, that is how we will be perceived. And perception IS reality. There are larger implications.
Firstly, this contributes to internal homophobia within the community. 'Straight acting' is by definition the direct opposite to the queenie, or butch gay stereotype, depending on your gender. The fact that many in the community would rather not associate themselves with these stereotypes means that we are just succumbing to what the mass media here has set up for us. We ourselves have little or no acceptance of the diversity that exists as a part, but not whole of our community. The damage is clear. The cut in our local programming goes deeper than that of the censor's scissors.
Secondly, gay on TV today is largely American. Helmi says that the fact that we get to see Ellen and Mark on TV represents a change. Yes, agreed. There is definitely, as I have qualified at the start, a shift in American media and society. Read that clearly: American media and society. In Asia, the change is controlled and manipulated. In fact, there is hardly any prevalent and positive representation of gay Asians on Asian television today. So even if you want to go hip hip hurray that we have Ellen and Mark on the boob tube, they are still not Asian. And in the few instances that gay Asians are represented in the media, it is largely still stereotypical (think Singapore's Liang Po Po and Thailand's
Iron Ladies
).
So is pink TV something we should throw a party for? Perhaps one day, when a completely out Asian actor wins an award at the Asian Television Awards, and gay Asian stories are shown on mainstream network as just a regular part of a story line, and gay personalities and characters are allowed to be shown to be complete human beings... perhaps then, corks should pop. Until then, let's not kid ourselves into believing that TV in Asia has turned pink.
Shah. is an 18-year veteran in the media, fashion and entertainment industry.