In delivering a judgement which overturned the earlier of conviction of two British men and a local associate for sexually abusing minors, Justice Bilal Nazki wrote in a judgement that the laws that criminalise "unnatural" sex including same-sex relations need to be reviewed.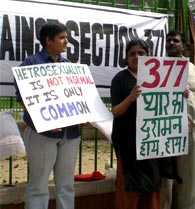 A public demonstration organised by Voices Against 377 in Delhi on 8 March 2008, International Women's Day. Photo by Amritananda Chakravorty.
"There are lots of changes taking place in the social milieu and many people have different sexual preferences, which are even not considered to be unnatural. Therefore it is high time that the provisions of law which was made more than a century ago, is looked at again."
Last week, Justice Nazki and Justice Sharad Bobde ordered the release of two former Royal British Naval officers - Allan Waters (64) and Duncan Grant (60) - along with their Indian manager William D'Souza, saying they were not guilty of sexually abusing minor boys at the Anchorage shelter home in Colaba. The pair had appealed against a 2006 verdict sentencing them to six years in prison and a fine of 20,000 pounds after being convicted on charges of unnatural sex under Section 377 of the Indian Penal Code in 2003. D'Souza was sentenced to three years in prison.
The judge's remarks are being noted by LGBT activists as a petition which seeks the court's direction to declare Section 377 "unconstitutional" is currently pending in the Delhi High Court and Justice Bilal's comments marks the first time any court in the country has spoken about changing the law.
"It is a significant and forward-looking view," said Lesley Esteves, a Delhi-based activist, was quoted as saying in
The Times of India.
"Across the world countries have decriminalised homosexuality, but the law continues to exist on our statuettes," Esteves added.
Section 377, which was enacted in 1860 by the British Raj, criminalises "carnal intercourse against the order of nature" and offenders may face "imprisonment for life or with imprisonment which may extend to ten years, and shall also be liable to fine."
The case, arising from a petition filed in 2002 by Naz Foundation - a HIV /AIDS NGO, is scheduled to be heard by the Delhi High Court on Sep 18 and 19 by Chief Justice Ajit Prakash Shah and Justice S Muralidhar, who are taking over the case from Justices Sikri and Midha.
"Section 377 demeans a gay man. It silences a gay man into accepting the discrimination against him. He will not come out to declare his orientation... It can be criticised on the basis of moral ground but it is illegal to make homosexual acts between consenting adults an offence," the petition read.
The central government in its reply had taken a contradictory stand with Ministry of Home Affairs favouring the retention of the penal provision while the Health Ministry was against the enforcement of Section 377 in cases involving consenting adults.
The central government, the Delhi government and far-right Bharatiya Janata Party politician BP Singhal, who opposes legalising homosexuality on grounds of traditional morality, have been asked to file their written arguments prior to the upcoming hearing.