Milk has received eight Oscar nominations from the Academy of Motion Picture Arts and Sciences for Best Picture, Gus Van Sant for Best Director, Josh Brolin for Supporting Actor and Dustin Lance Black for Original Screenplay.

Some 30 years ago, Harvey Milk made the national headlines for becoming the first openly gay person to be elected to public office in the United States after three unsuccessful campaigns.

The San Francisco Board of Supervisors member was assassinated at the age of 48 after 11 months on the job.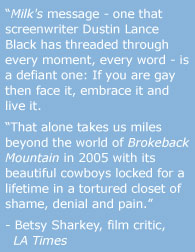 Film critic Betsy Sharkey at the
Los Angeles Times
wrote of the buzz surrounding the nominations:
"Today, the fact that
Milk
received eight Oscar nominations from the academy, including best picture, is significant and says much about where we are in our relationship, and comfort level, with the gay rights movement. In a word - improving.
"Why? Director Gus Van Sant's
Milk
is not a tentative film, rather it is openly, unapologetically gay. It begins with an introduction to a very fey Sean Penn as the still unrealised political activist Harvey Milk. On the night in question, he's a guy on the prowl for a hookup with another guy in the grimy underground of the New York subways.
"From there we are taken to San Francisco, the heart of the gay movement in the '70s, as we watch Milk's political passions rise. But there is also sex, everywhere; the film is saturated with gay experience, the nuance and many textures of gay life and all that it means.
"Milk's message - one that screenwriter Dustin Lance Black has threaded through every moment, every word - is a defiant one: If you are gay then face it, embrace it and live it.
"That alone takes us miles beyond the world of "Brokeback Mountain" in 2005 with its beautiful cowboys locked for a lifetime in a tortured closet of shame, denial and pain."
(Read more of her column at
theenvelope.latimes.com
.)
Milk
has been nominated for:
Best Motion Picture of the Year
Performance by an Actor in a Leading Role - Sean Penn
Performance by an Actor in a Supporting Role - Josh Brolin
Achievement in Directing - Gus Van Sant
Best Original Screenplay - Dustin Lance Black
Achievement in Costume Design- Danny Glicker
Achievement in Film Editing - Elliot Graham
Best Orignal Score - Danny Elfman
81st Oscar Nominees
The 81st Annual Academy Awards will be presented on Feb 22. For a complete list of nominees, visit
oscar.com
.
BEST PICTURE
The Curious Case of Benjamin Button
Frost/Nixon
Milk
The Reader
Slumdog Millionaire
BEST DIRECTOR
Danny Boyle,
Slumdog Millionaire
David Fincher,
The Curious Case of Benjamin Button
Ron Howard,
Frost/Nixon
Stephen Daldry,
The Reader
Gus Van Sant,
Milk
BEST ACTOR
Richard Jenkins,
The Visitor
Frank Langella,
Frost/Nixon
Sean Penn,
Milk
Brad Pitt,
The Curious Case of Benjamin Button
Mickey Rourke,
The Wrestler
BEST ACTRESS
Anne Hathaway,
Rachel Getting Married
Angelina Jolie,
Changeling
Melissa Leo,
Frozen River
Meryl Streep,
Doubt
Kate Winslet,
The Reader
BEST SUPPORTING ACTOR
Josh Brolin,
Milk
Heath Ledger,
The Dark Knight
Robert Downey Jr.,
Tropic Thunder
Philip Seymour Hoffman,
Doubt
Michael Shannon,
Revolutionary Road
BEST SUPPORTING ACTRESS
Amy Adams,
Doubt
PenÚlope Cruz,
Vicky Cristina Barcelona
Viola Davis,
Doubt
Taraji P. Henson,
The Curious Case of Benjamin Button
Marisa Tomei,
The Wrestler
BEST ORIGINAL SCREENPLAY
Frozen River
, Courtney Hunt
Happy-Go-Lucky
, Mike Leigh
In Bruges
, Martin McDonagh
Milk
, Dustin Lance Black
WALL-E
, Andrew Stanton, Jim Reardon, Pete Docter