Warning: For viewers watching a delayed telecast, this article contains a spoiler.

The last of eight singers to perform on Tuesday's show, Adam Lambert singing "Mad World" which got judge Simon Cowell up on his feet - said to be for the first time in a long time, if ever - has dominated entertainment news headlines on the Internet the day after.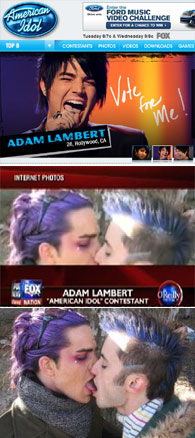 Lambert's rendition of the Tears for Fears classic also won praise from Gary Jules who arranged the stripped-down, slowed-down version on his 2001 album,
Trading Snakeoil for Wolftickets
, and which was featured in the cult movie
Donnie Darko
the same year.
The 26-year-old California native who is widely said to be gay after photos showing him in "glam-drag" and kissing another man created a stir on the Internet the first week of March 2009. He has not publicly commented about his sexual orientation.
Even conservative talk show host Bill O'Reilly showed the photographs on his Fox News show
The O'Reilly Factor
on Monday night. But the photos were cropped just where the pair's lips met.
Calling the photos "embarrassing" and which "hint that he is gay," he asked his studio guest if the images will "have an effect on this program which is a cultural phenomenon in America?"
Lambert will advance to the Top 7 next week. The final two contestants are scheduled to perform on May 19, 2009. The winner will be determined by the viewing public who will vote via telephone and text-messaging after each show, and the results will be announced during the following night's broadcast.