Prince World KL is the name behind some of the hottest parties in the Malaysian capital of Kuala Lumpur (KL). The dynamic team behind the vibrant events in KL have always broken free from the norm, with never a dull moment at any of their bashes. Parygoers have since come to expect exciting themes and concepts, an array of international and local DJ talents, and creative setup and décor.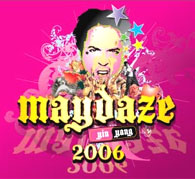 To celebrate Labour Day in May, Prince World KL and Liquid's Saturday Sensual events arm brings clubbers Maydaze 06, a series of four back-to-back parties held at three different venues - The Disco, Espanda and Orange.
Following Maydaze 05's sweat filled, podium prancing three-day marathon last year, this year's installation features a line up of local and international DJs Kate Monroe (Australian), Tim Jones (UK) and David S (Taiwan) at the decks for more arm-raising dancefloor madness.
Known as Australia's first lady of house, Monroe's distinct style has led to extensive touring schedules throughout Australia, Singapore, New Zealand and USA supporting international DJs such as Derrick Carter, Bob Sinclair and Masters At Work, among others. She plays at Orange on Sunday 30 April at Yang alongside Tim Jones, who has seen his DJ career take off following 1998 Sydney Mardi Gras Recovery Party at Arq. Following his return to London as a guest DJ at Heaven, things have been crazy with him getting booked for events all around the world including for stints in USA, Spain and Italy.
Taiwan's David S made his international debut at Queens Club in Hong Kong in February 2002 and at Hong Kong's first tea dance, Hxproduction's Decadence, in July the same year. Decadence, with its unprecedented attendance, was an immediate success and has since given rise to a series of very popular monthly parties. He shares elbowroom on the decks with Princess Ann at Yin at Orange on Saturday 29 April.
All throughout this four-day celebration in the name of labour, local DJs Jason M, Vic, Odin, Nesh, Bobby B and Princess Ann show off their deck skills with these international stalwarts. With such an explosive vibe, Maydaze 06 looks set to be one massive event!
For more on Maydaze 06, log onto www.princeworldkl.com.