Kicking off the Labor Day weekend in San Francisco with a bang, David S., a favourite among partygoers in the Asian circuit scene, will spin at Club Dragon Eight - the Bay Area's hottest gay Asian Friday night party - on Sept 1 and Matinee@Mezzanine on Sept 3, as part of the Nation Promo Tour.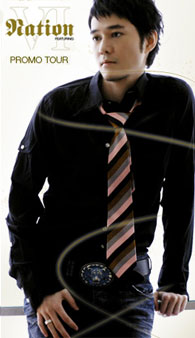 DJ David S., a favourite among partygoers in the Asian circuit scene.
In association with Fridae, Matinee will also feature the legendary DJ / producer Peter Rauhofer, who has remixed everyone from Madonna to Yoko Ono, for an extended hours Labor Day special with an opening set by local resident DJ Luke Johnstone.
Held from Oct 20-22 in Phuket, Nation.VI is Asia's most renowned gay and lesbian party and will feature David S. playing alongside Victor Cheng (Taiwan) and Kate Monroe (Australia) at the closing party on Oct 22, two-time Grammy Award Nominee Tony Moran at the Danse Royale party on Oct 21, Argentina-born LA-based De León at the Military Ball party on Oct 20 as well as W@Nation, an extensive women's programme held during the same weekend.
Rising from Decadence Hong Kong; and G5, Wonderland, Follow Me in his home base Taiwan; David S. has spun twice at Nation and Paradise Ball in AgeHa Tokyo and toured Korea, Malaysia, and Philippines. Currently David is the prima DJ for HX production HK, and resident DJ for In House, Room18, and Soda under the agency of BK William Studio in Taiwan. He has also released studio works "Nation.04" and "Housequake!!!", which promises to bring you a wicked house favour from old school to the progressive killer.
His latest project: Catwalk, a fashion show inspired compilation which includes tracks: Talk (Coldplay), Just Let Go (Fischerspooner), A Pain That I'm Used To (Depeche Mode) and Ooh La La (Goldfrapp) among 25 others, will be released on August 25.
The 2-CD set, which is a collaborative effort with fellow Taiwanese DJ Blueman, will be available online on the Fridae Shop soon.
Having released solo dance albums locally and internationally, the pair - with over 30 years of DJing experience put together - is well known for their extensive live DJ gigs in support of "Johnnie Walker" whiskey and Italy's trendy "Diesel" brand in Taiwan. Together they have over 30 years of DJing experience.
David S. has also just been booked to play at Fridae's SnowBall to be held in Taipei this December.
Get your tickets to Matinee at a special discount of only $15 (usual $30 door/$20 advance) for the first 50 who purchase your tickets online. Click
for more.
Next page, Catwalk track list.
---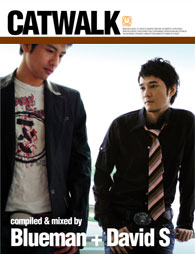 Watchout for Catwalk, available online on
Fridae Shop
soon!
Produced by I/O Music Taiwan
Compiled by Blueman & David S
Release Date: Aug 25, 2006
Catwalk track list:
"Fashion" by Blueman
1. Tiga - You Gonna Want Me (12 Inch Dance Mix)
2. Benny Benassi - Who's Your Daddy? (Fuzzy Hair Dub)
3. David Guetta - In Love With Myself (Fuzzy Hair Rmx)
4. Luke Walker - Alias
5. Erasure - Don't Say You Love Me (Atoc's Rock "N" Ravin' Vocal Remix)
6. Coldplay - Talk (Thin White Duke Extended Remix)
7. Fischerspooner - Just Let Go (Thin White Duke Extended Mix)
8. Depeche Mode - A Pain That I'm Used To (Jacques Lu Cont Remix)
9. Juliet - Ride The Pain (Dab Hands Dub)
10. Don Diable - We Smoke (Swith The Button Dub)
11. Simioli Vs Rivaz - Elektro Pump (Club Mix)
12. Lcd Soundsystem - Tribulations (Tiga's Out Of The Trance Closet Mix)
13. Moby - Where You End (Tiga's All I Need Is To Be Sampled Mix)
14. Royksopp - 49 Percent (M.A.N.D.Y. Remix)
"Chic" By David S
1. Pnau - Enuffs Enuff (Dirty Birthday Remix)
2. The Juan Maclean - Give Me Every Little Thing (Cajmere Mix)
3. Audio Bullys - I Won't Let You Down
4. Goldfrapp - Ooh La La (Tiefschwarz Dub)
5. Sharam Jey Feat. Brixx - Push Your Body (John Dahlback Remix)
6. Miss Kittin - Requiem For A Hit (Abe Duque Remix)
7. Daft Punk - Human After All (The Juan Maclean Remix)
8. The Chemical Brothers - Believe (Extended Version)
9. Eyerer & Chopstick - She Loves It (Deepgroove's Dirty House Remix)
10. Tony Cha Cha - Sonar (Tony Cha Cha Remix)
11. Hi-Tack - Waiting (Delano & Crockett's Late Nite Dub Mix)
12. Starkillers - Diskoteka (Original Mix)
13. Culture Club - Miss Me Blind (F*** Me I'm Famous Extended Remix)
14. Braund Reynolds - Rocket (Slyde Remix)
15. Schwab - Djs In A Row (Tom Middleton Cosmos Vox)