BMW calls the X6 a SUV-Coupe. Mercedes Benz calls their CLS a four door Coupe. So what is a coupe? Shouldn't a coupe be a low slung car with just two doors? Dicey. These days, a straight forward answer is not possible anymore.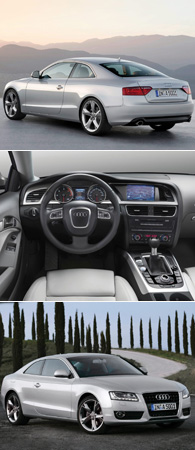 Regardless of the number of doors or the height, a coupe should stand out on the roads and the car parks among the sea of bland sedans and hatchbacks. Arresting every passerbys' attention with sharp features and smart proportions. Exactly like this week's feature coupe, the Audi A5 2.0 TFSI.
Do not be fooled to think that the A5 coupe is actually a chopped down version of the big selling A4 sedan. Hardly, as the head of design for the entire Volkswagen Group, Walter De'Sliva has cleverly flattened the roof and added sensual curves to the body, easily Audi's most beautiful new car for this decade so far.
In place of a 1.8 turbo, a bigger 2.0 turbo engine takes place as the entry model for Audi's only true four-seater coupe in the rapidly expanding range, gaining 41 horsepower in the process. All Singapore bound A5 2.0 TFSI are front wheel drive only.
By not equipping the A5 2.0 TFSI with Audi's famed Quattro (four-wheel drive), torque steer is evident under hard acceleration from a standstill. However, once on the move, the 2.0 turbocharged engine with 211 horsepower is smooth and adequate with a fruitful sounding exhaust note as well. There is actually more torque from the 2.0 TFSI at 350 NM compared to the more expensive 3.2 FSI A5 (which looks like a suspect among the range now).
Audi's multitronic gearbox is being employed here, that is Audi speak for CVT (Continously Variable Transmission) gearbox. Clearly one of the best examples out there in the market now, as there is none of that irritating retarded acceleration feel that is commonly associated with such gearboxes.
Judging by the A5's appearance, this is not intended to be an outright sports coupe. To be fair, it does drive well, but just not in a hardcore sporty manner. Words like refined and cultured will serve the A5's driving characteristics well. Perhaps it makes sense not to bring in the Quattro version for the 2.0 TFSI, as there is plenty of grip available; there is never a dip in security and composure.
Big bumps do not faze the A5's ride. However, small road irregulations does filter into the cabin. The previously tested top of the range, S5 does have a better sorted out ride despite wearing bigger 19" alloys. The 2.0 TFSI makes do with 18" alloys, but it certainly fills up the wheel arches with conviction.
Audi's premium interior experience is still evident here and will easily trounce any rival. A pity to find somewhat flimsy lower door pockets and plastic door handles. Comparing to the $70K dearer S5, the entry model's omission of goodies like the walls shifting Bang and Olufsen sound system, the huge tilt only roof, but none missed more than Audi's MMI (Multimedia Interface). The need to stretch to reach the grouped controls on on the central console can be distracting for drivers.
Entry to the rear seats is fast and easy; however, there are issues with the space on offer here at the rear. The back of the front seats have cut-outs for additional knee room for the rear passengers, but headroom at the rear is unkind for passengers above 1.8 metres tall. Then again, who buys a coupe if ferrying that many people is your motoring priority?
The local launch for Mercedes Benz's new E-Class coupe is at least six months away and BMW's 3-series coupe dressed in retired Chris Bangle's fussy lines looks dated. The competent Audi A5 2.0 TFSI priced at a reasonable $173K has arrived at the top with ease. If Apple builds a car, it will be right on the dollar, just like the Audi A5.
| | |
| --- | --- |
| | Audi A5 2.0TFSI |
| Engine | 1,970cc 4 cylinder 16V, turbocharged |
| Transmission | Multitronic |
| Wheels Driven | Front |
| Max. Power | 211BHP @4300rpm |
| Max. Torque | 350NM @1500rpm |
| 0-100 km/h | 6.9 secs |
| Top speed | 240 km/h |
| Fuel Economy | 6.6L/100km (combined cycle) |
| CO2 Emissions | 154g/km (Euro IV compliant) |
| Dimensions (L x W x H)/Weight | 4625mmX1854mmX1372mm/1420kg |
| Price with COE* | $173,000 |
*Prices quoted are indicative of prices in Singapore. Please contact your local distributor for prices in your country.
Check out this week's
AutoClub Newsletter
for our picks on coupes.
Related Articles:
Heat Seeking Device: Audi S5