Three weeks of Mardi Gras climaxed on the streets of Sydney's gay heartland with the annual parade. 175 floats, featuring around 8,000 participants, snaked their way from close to the city centre and on to the Moore Park Showgrounds, scene of the after-parade party. Threatening skies kept crowd numbers down, but police believe between four and five hundred thousand people turned out to watch.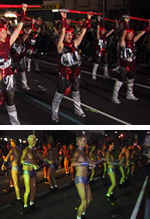 The 'Pink Picket Fence' was the lead float, reflecting a focus on gay and lesbian parenting rights. With prominent gaudy flamingos and a plethora of prams, it also showcased scores of gay and lesbian mums and dads and their proud offspring. The point was to focus on gay and lesbian parenting and the inequalities in legislation on issues such as in-vitro fertilisation, adoption and the recognition of non-biological parents. These are all issues that have put federal and state governments in opposition with gay and lesbian groups in the last year.
That float sent the tone for an evening that was to prove far more political in tone than in recent years. It was a move which heartened some of Mardi Gras' critics, of which there have been plenty this year with disquiet about party ticket prices and creeping commercialism.
Aboriginal rights grabbed the crowd's attention in two distinct ways. There was a float featuring a gaggle of Cathy Freemans, the Olympic gold medallist and aboriginal role model. It was organised by indigenous gays and lesbians themselves and was intriguing in that it gently lampooned one of their own icons. Then, there were the 'Sweeties for a Treaty'. This was a mainly white group of gays and lesbians calling for reconciliation with Australia's indigenous people, the Aborigines and Torres Strait Islanders. The 'Sweeties' began as four friends taking part in a reconciliation walk across the Sydney Harbour Bridge last year. By the 2001 Mardi Gras there were hundreds behind the banner. Among them was the chief of the Aboriginal and Torres Strait Islander Commission, Geoff Clark. AIDS organisations took their customary pivotal place in the parade as well as many long established social groups from across Sydney's sprawling suburbs. The revered 'Pollys' from the city's inner-west and the women's 'Clover' group received a particularly warm response from the crowd.
As a counterpoint, there were floats from interstate, with Tasmania providing a real eye catcher, and from overseas, such Japan. Mardi Gras has long attracted Americans and Canadians to its parade, this year Wales and Papua New Guinea were among the countries that marched and entered a queer League of Nations.
The New South Wales Police marched in the parade to noisy acclaim, as did the Dykes on Bikes who led off the event.
The number of floats may have been smaller than in 2000, but that didn't stop them taking around two hours to completed the parade route. There were marching boys and girls, plenty of drag queens and some sharp satire aimed at Australian politicians.
The final few hundred metres were staged, as has become tradition, in front of specially constructed grandstands organsied by one of Australiaís leading AIDS charities, the Bobby Goldsmith Foundation.
Police praised the public for their good humour throughout the big night and there were no reports of any serious incidents.
A parade that began as a political protest in the late 70s showed it still has the energy and talent to re-invent itself. There was plenty of glitz and glamour, but that was more than balanced with substance and humour. Not even the odd spot of rain could dampen the enthusiasm or the message.