Twenty riders and seven support crew from Singapore will join over 50 riders and crew from Malaysia to cycle 900 km from Kuala Lumpur to Singapore to raise funds and awareness for HIV/AIDS prevention as well as care, support and treatment for people with AIDS (PWAs).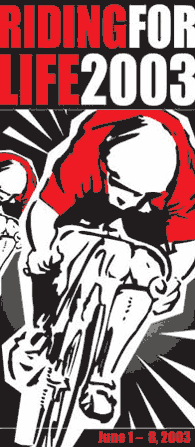 The Singapore riders will leave by coach on Saturday, 31 May to meet their Malaysian counterparts in Kuala Lumpur. The ride begins with the flag-off at the Petronas Towers in Kuala Lumpur on Sunday, 1 June 2003.
Riders will take eight days to ride from KL to Singapore, traversing Malaysia with overnight stops in: Temerloh, Kuantan, Bandar Muadzam Shah, Seremban, Melaka, Batu Pahat and Johor Bahru.
Well-wishers are encouraged to be at the Riding for Life 2003 Carnival organised by the Malaysian AIDS Council & Malaysian AIDS Foundation on Sunday, 1 June. The cyclists will be flagged off by YAB Dato' Seri Abdullah Ahmad Badawi, Deputy Prime Minister of Malaysia.
The carnival will also feature 3R Hosts: Azah, Kartini & Yuen, ALAM, Chacko Vadaketh, DJ Beryl, Ferhad, Jason Lo, Pengasih Musik Group, Reefa, Shahrizan and Defiant Performers. DJ Groove Doctor, DJ Jungle Jerry and DJ Sam Kumar will spin from 11am to 5pm.
The welcome rally will be held at the National Youth Council's Youth park from 3 - 4pm on 8 June. The Guest of honour is Dr Mohd Maliki Osman, MP for Sembawang GRC.
Riding for life 2003 is a joint project by Action for AIDS (AfA) (Singapore) and the Malaysian AIDS Foundation (MAF). Four years ago Riding for Life 99 raised over S$45,000 in a cycle marathon from Penang to Singapore, while two years ago Riding for Life 2001 raised $50,000 riding from the east coast of Malaysia from Kota Bahru to Singapore.
RFL 2003 (Flag-off) Carnival in KL
Date: June 1, 2003 (Sunday)
Time: 7am - 5pm
Venue: Taman Tasik Titiwangsa, Kawasan Astaka
(stage area, next to the stadium)
Welcome Rally in Singapore
Date: June 8, 2003 (Sunday)
Time: 3 - 4pm
Venue: Youth Park, Somerset Road
To make a donation, you can make a crossed cheque to:
"Action for AIDS (Singapore)" and address it to:
Riding for Life
Actions for AIDS (Singapore)
c/o DSC Clinic
31 Kelantan Lane #02-16
Singapore 200031
Or call 62540212 or 90037566 or email afa@pacific.net.sg
Or the "Malaysian AIDS Foundation" and address it to:
Riding for Life 2003, Malaysian AIDS Foundation
No. 12, The Boulevard Shop Office
Jalan 13/48A, Off Jalan Sentul
51000 Kuala Lumpur
Or contact the Malaysian AIDS Foundation at (03) 4045 1033 or email maf@mac.org.my