Prime Minister Goh Chok Tong, whose comments on the government hiring openly gay in a July issue of Time magazine sparked off the most open and sustained discussion on gay issues in local print and broadcast media history, said that his comments "do not signal any change in policy" but urged Singaporeans to accept gay people as fellow human beings.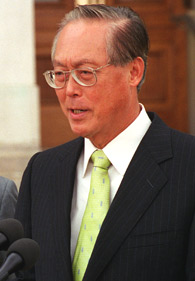 Singapore Prime Minister Goh Chok Tong
Making his 13th National Day Rally speech which was televised live on Sunday night, PM Goh clarified his stance on the gay issue after mentioning that the republic has lifted the restrictions against bar-top dancing and bungee jumping.

"Now, when I allowed bungee jumping and bar-top dancing, it is not because I encourage these activities. You will never find me dangling from a bungee cord, or dancing on a bar-top. But you may find me watching a bungee jump, and, I don't know, perhaps one day, I may go and see why dancing on a bar-top gets some people all excited. What I had done was to signal a shift in our mindset to being more relaxed and open-minded, and less strait-laced and Victorian," PM Goh said.

He continued: "As for my comments on gays, they do not signal any change in policy that would erode the moral standards of Singapore, or our family values. In every society, there are gay people. We should accept those in our midst as fellow human beings, and as fellow Singaporeans. If the public sector refuses to employ gays, the private sector might also refuse. But gays too, need to make a living. That said, let me stress that I do not encourage or endorse a gay lifestyle."

The audience, comprising mostly politicians, civil servants, community, grassroots and business leaders as well as student representatives, applauded with much gusto after he expressed his disapproval of the "gay lifestyle," despite the fact that the definition of the term is unclear even among gay individuals.

"It's disconcerting to see that the PM's comments about not encouraging or endorsing a gay lifestyle has garnered so much support (as seen from the applause) from the audience. What exactly do they think they are agreeing on and is there something about the gay lifestyle that they know and we don't? Or is that a codeword for gay sex?" Commented a reader, who asked not to be identified, in an email to Fridae.

PM Goh continued, "Singapore is still a traditional and conservative Asian society. Gays must know that the more they lobby for public space, the bigger the backlash they will provoke from the conservative mainstream. Their public space may then be reduced."
---
Opinions expressed on gay Internet spaces have indicated that the PM could in fact be hinting that the Singapore gay group, People Like Us, who is organising itself to possibly reapply as a society - should not be pushing too hard. The group, who had met shortly after the PM's comments on hiring gay employees in the civil service was published in Time magazine, had its initial application rejected in 1997. Some have also taken it to mean that the gay community should not lobby for the decriminalisation of gay sex acts - as yet.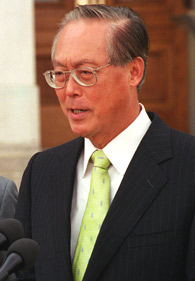 Singapore Prime Minister Goh Chok Tong
"I am glad that conservative Singaporeans and religious leaders have made known their views on the matter, clearly but responsibly. I hope we will now move on and focus on more urgent challenges."

In late July, the National Council of Churches of Singapore, which represents Anglicans, Methodists and Presbyterians, among other mainstream denominations, issued its statement on Tuesday following an anti-gay campaign organised by several churches objecting the change of a governmental policy that now employs gays in the civil service. The council also called on the government to maintain "its current legislation concerning homosexuality," "its policy of not permitting the registration of homosexual societies or clubs" and "its policy of not allowing the promotion of homosexual lifestyle and activities."

Shortly after, the Islamic Religious Council of Singapore said that homosexuality is a sin among Muslims and urged believers to persuade fellow homosexual believers to give up their 'lifestyle.'

At the two-hour long speech, most of which was about employment, wage reform and economic challenges affecting the republic and its citizens, PM Goh also named Deputy Prime Minister Lee Hsien Loong, the eldest son of Singapore's founding father Senior Minister Lee Kuan Yew, as his successor. PM Goh, who succeeded the older Lee in 1990, added that the younger Lee should have at least two years in the job before he had to contest the next General Election - due in 2007.