Three of Singapore's most talented theatre performers - Darius Tan, Gani Abdul Karim and Juwanda Hassim who are starring in 3 Men & A Boot share their experiences about being gay and their love for musical theatre and song; and why dragging is not about trying to pass off as a girl. You can catch them in a 90-minute whirlwind of song, dance and intimate revelations on 23 and 24 May at the Victoria Theatre. More details at the end of the article.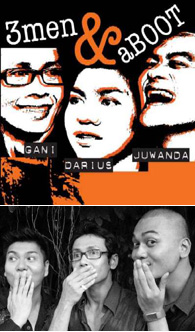 From the left: Darius Tan, Gani Abdul Karim and Juwanda Hassim
æ:
Congratulations on your upcoming production,
3 men and a Boot
. Tell us what is it about and what can the audience expect?
Juwanda:
3 men and a Boot
is about 3 guys trying to make it in a very tough and fast paced Singapore. With love, faith and hope as their guide they waddle through funny, touching and nonsensical moments... and the smelly boot offers some help.
It took us roughly a year to conceptualise and write the show and out of the whole lot of songs we started with, only 2 of the original songs remain. With the help of my partner, Mr. Tony Preece (who is a brilliant writer based in Australia), all our personal experiences have been put into the washers and dryers more than a couple of times. We got the wrinkled pieces in February this year and have been working on it since.
We were also very fortunate to have on our team, Mr Bang Wenfu, one of the most talented composers/arrangers in Singapore, to be our musical director. Bang Wenfu has had the honour of working with many of Singapore's greats like Dick Lee, Babes Conde, Mark Chan, Iskandar Ismail and many others. With such experiences, he has developed his own distinctive style.
Our repertoire includes pop, blues, R `n' B, musicals and Cole Porter songs. We have included a tribute to composer Mr Dick Lee and will be featuring some of his works - and we don't mean just his musical stuff.
With Gani (one of Singapore's top choreographers) in this show, you can expect to see three men sweating it out for you on stage.
Our guests include - Hatta Said, Kim Creasman and Singapore's Soul Mama - Asha.
Gani: It's a show about three friends, three different experiences and three different paths taken - and a insatiable love for music. It's not a mere song and dance show per se. Little personal anecdotes about life and experiences added into the show and about how different personalities come together.
Darius: Well...
3 men and a Boot
is a show with an array of excellent music genres ranging from typical musical theatre numbers to jazz and blues! It's a show with lots of great music, comedy and lots of bantering from the three of us! What the audience can expect is basically a night of relaxation and also to chill from the current spate of problems (e.g. SARS) and also expect three not-so-bad-looking guys singing their hearts out to the audience!
æ:
Do you have any interesting titbits about the two other guys to share?
Juwanda: Ahem! (chuckles) It is amazing how much time Darius spends on his eyebrows every day, and as for Gani the older they get, the more... ahem. (more chuckles)
---
Gani: Titbits? Hmmm.... Well, besides the fact that they've got bigger tits than I do, Juwanda has got a ferocious appetite for... (chuckles)! On the other hand, Darius has a hawk's eye when it comes to spotting a cutie on the streets (as well as in the audience).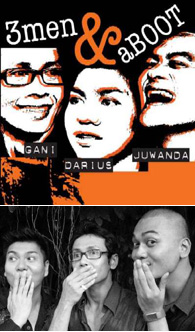 From the left: Darius Tan, Gani Abdul Karim and Juwanda Hassim
Darius: (being coy) Come watch the show and see for yourselves!!!
æ:
How did the three of you start your careers in the performing arts?
Juwanda: Started yonks ago with an amateur group called "Stage Club." I performed in a musical called
Cabaret
. Loved it then, still love it now.
Gani: The production that made me decide to go into performing arts full time would be
Beauty World
(1988). I was still in school then and with the encouragement of a friend, I attended the audition. I got a part of a chorus boy and was the youngest member in the company. Having been able to sing, dance and act, all at the same time, created such a buzz and an adrenaline rush in me that I got addicted. However, having been performing since I was six years old,
Beauty World
just brought the simmer of that potential in me to a boil.
Darius: Well, I got into the scene when I was 16 as a mere chorus/ensemble cast of The Western Australian Touring Group of
Aida: The Grand Verdi's Opera
and stuck to this career path ever since. I must say I'm quite satisfied and happy I achieved so much within a short period of time from
Chang and Eng
to the recent
Forbidden City
. It's quite a feat, for a 24-year-old!
æ:
How old were the three of you when you first discovered the joy of singing?
Juwanda: Well, my entire family is musically inclined - my dad played the saxophone and piano and has a rich baritone voice; my siblings read music and each play an instrument. I tried playing the trumpet but failed. I then realised I had good rhythm and like to yell a lot in music classes in primary school. So I guess I developed it at a very young age. The bathroom helped a lot too. (winks)
Gani: As far as I can remember, I was a shy kid, but put me on stage and the world around me doesn't matter anymore. I've been on stage since I was six years old.
Darius: I guess everybody realise they like singing at a tender age in kindergarten, etc, but I suppose my "calling" came when I first heard the recording of Stephen Sondheim's
Into the Woods
when I was 13. The fact that a song can be weaved into story telling with emotions, sparked something in me.
æ:
What is your favourite song or musical?
Juwanda: My favourite song is "He's Got Away about Him" by Bernadette Peters. Its simple melody and lyrics plus that voice just makes me melt and I would like to share it with a special someone.
My favourite musical is
Blood Brothers
By Willy Russell (One of the longest running show in the West End, at the Phoenix Theatre). I saw it in London a few years back. My sister bought the CD for me ages before I saw the musical, but when I saw it I just wept non-stop. This musical is definitely an actor's piece because the journey of the actors on stage is amazing and no one had a dry eye when the shows ended. You could hear sobs all over the theatre. If you were to go to London and only have enough money to watch just one musical,
Blood Brothers
would be my recommendation. Willy Russell rocks!!!
---
Gani: Wow! My taste in music is so diverse and eclectic that there's no song that I particularly like. I love Cole Porter songs and Motown, "Uninvited" by Alanis Morrissete, "Angel" by Sarah McLachlan, "Love is Need of Love" by Stevie Wonder, "Summertime" from Porgy and Bess, "Sister Moon" by Sting, "Father Figure" by George Michael, "Les Miserable"... I can go on and on and onů!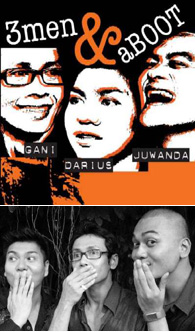 From the left: Darius Tan, Gani Abdul Karim and Juwanda Hassim
Darius: Geez there are so many... I'm a self-confessed musical freak that to name one its really tough. My favourite composer would have to be that of Stephen Sondheim.
æ:
What was the first song you ever performed for an audience?
Juwanda: "The Search Is Over" by some 80's rock group, I was 12 and it was the year-end concert and I was picked to sing and I said I will but I will choose the song.
Gani: "Sealed with a Kiss" in a secondary school Talentime contest.
Darius: First song?! Wow... that's so long ago and I think it was something from Richard Rodgers and Oscar Hammerstein II or is it something National Day-like. I can't remember.
æ:
As openly gay men, have you ever encountered any incidence of homophobia despite the arts scene being (or said to be) quite liberal?
Juwanda: I guess I'm lucky, I have never. Most people in the scene are quite understanding and acceptable with people being gay and if they are not, I say: Tough!! Get on with it. Get over it... we're all trying to work here. I think homophobic men have got their own tendencies to get over, well that is only my opinion so don't hold it against me... :-P
Gani: In theatre, never. In television, yes, especially the closeted ones. I think that they are so repressed, so they can't bring themselves to accept that I'm comfortable with myself as well as my being gay. Perhaps, they've made a moralistic choice and hence feel the need to impose on others. Cest La Vie, it's not my problem!
Darius: I personally feel there's always going to be a case of homophobia existing in Singapore as long as homosexuality is not acknowledged as a part of this society.
æ:
How true is it that it's quite okay to be gay in Singapore if one is in the arts?
Juwanda: I personally think it is fine to do what ever you want as long as it does not invade other's space or "face". I do agree that the arts scene has got a higher concentration of gay men. You often have to count the number of straight men, and it's quite funny sometimes because the numbers are few and far between. However, I think it's okay to live your life however you want, wherever you are.
Gani: Not totally true, I think. As long as the majority of society deems it unacceptable, the arts and its artistes will be affected. However, I feel most are tolerant with performers. Then again, tolerance is different from acceptance, isn't it? Having said that, I think the arts could be a powerful medium to educate and inform the arts-going community as well as society in general. Why is it that a play that has no sex or violence or even kissing but carries a gay theme will still get the R(A) rating? That says a lot about where we stand. Is the arts reflective of society?
---
æ:
Gay men seem to have an insatiable love for performance arts and in particular, musicals, Broadway, opera and even movie-musicals like Chicago and Moulin Rouge. What's your take on the love affair between gay men and musical theatre?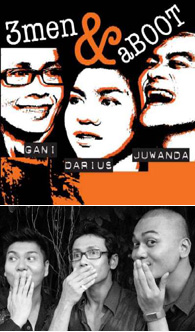 From the left: Darius Tan, Gani Abdul Karim and Juwanda Hassim
Juwanda: THE DRAMA LAH!!! What else?! I can't think of anything else. However I'm speaking for myself. The reason why I have an insatiable appetite for musicals is because of the great detail, love and creativity that goes into making one. It allows me to escape and allows me to go into another world where all emotions are heighten... and then there are the songs... My god, there is always one good song that leaves you humming and singing for days. Having said that, not all musicals are song and dance, some deals with really strong issues. One of my favourites is a musical about the Quilt that they put together for the people who died of Aids during the first out break in San Francisco. It's called
Angels, Punks and Raging Queens
, it's amazing stuff and we are really fortunate to have the opportunity to feature one of the songs from the musical called "Learning To Let Go" in our show.
Gani: The musical theatre of old had silver screen goddesses like Judy Garland, Marlene Dietrich, Ginger Rodgers, Marilyn Monroe, etc. They epitomised the tragic beauty that men desired, but could not have. Don't most of you yearn to be in that position? This analogy is made on purpose. There's a dragqueen in all of us. Drag culture, to me, is not about trying to pass off as a girl. Drag culture is all about the hair, makeup, costume, drama, glamour, desiring admiration, and the heightened sense of being in musical theatre and stage provides that outlet.
The Torch Song
encapsulates our tragic life - an extreme extension of our reality, perhaps. Who knows? We all need drama in our lives, don't we? "Somewhere over the Rainbow" and "Diamonds are a Girl's Best Friend" - the lyrics say it all.
Darius: I feel that gay men are not the only ones adoring musical theatre but they ARE the core audience. Why the love affair? Gay men love beautiful things - visual or audio. Musical theatre has it all from heart-wrenching affairs, happily-ever-after endings, costumes to die for and gorgeous male leads! What more can one ask for? Honestly I feel musical theatre is here to entertain and also leads one to another plateau that's out of this world!
æ:
What do you think draws gay men to song?
Juwanda: I think a good song is able to make anybody tremble or go soft in the knees or act out secret fantasies. MUSIC is MAGIC!!
Gani: I think gay men are generally more in touch with their feminine side and hence more "moved" by songs. Everytime we face heartaches or rejection, or any kind of drama in our lives, we hear music in our head to quench the sorrow in our hearts. Similar effects happen when we fall in love, when we are happy. We're just great at survival games and hence a song for every episode in our lives.
Darius: I think gay men have sensitive perspectives on femininity and masculinity in them and thus, feel more for a song or even anything else in life!
Catch Darius, Gani and Juwanda in
3 Men & A Boot,
a fantastic and awe inspiring journey through the worlds of musicals, jazz, blues and pop!
Event info
3 Men & A Boot
Date/Time: 23 May 2003, 8pm; 24 May 2003, 2.30pm & 8pm
Venue: Victoria Theatre
Tickets: $36, $26 (10% discount for Fridae Members)
Ticketing: Sistic (see link below)