Following a very public spat between the Home Affairs and Health ministries over the possible repeal of its gay sex laws, the media has reported that the country's new Law Minister Veerappa Moily is set to meet with his colleagues from the other two ministries to discuss the issue. No date has been announced.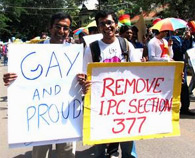 A photograph from Bangalore Pride 2008.

A petition filed to exclude consensual same-sex sexual relations under Section 377 of the Indian Penal Code is pending in the Delhi High Court, where former home minister Shivraj Patil and former health minister R Anbumani had taken conflicting stands in court. Last May, the court heard that the Ministry of Home Affairs favours the retention of while the Health Ministry acting through the National AIDS Control Organisation (NACO), is against its enforcement.
The petition filed by Naz Foundation, a HIV/AIDS NGO, in 2001 is seeking the exclusion of sexual acts between consenting adults as well as other acts including oral and anal sex between consenting adults of any biological sex.
According to the Times of India on Jun 28, the meeting follows the intervention of prime minister Manmohan Singh who had directed the ministers to resolve their differences so that the government gets a "cogent and uniform view on homosexuality."
The same report says that Moily and Chidambaram are in favour of repealing the 150-year-old laws while Azad's view are not known – the health ministry has historically favoured decriminalising consensual same-sex relationships between adults.
"There is a move from the government's side," Union law minister Moily was quoted as saying in DNA India. "We are re-looking at the law. The Union home minister (P Chidambaram) has invited the health minister (Ghulam Nabi Azad), home ministers of all states, and me for consultations."
It's however known that Chidambaram's predecessor, Shivraj Patil, was considered one of the main obstacles in the last government to repealing the law. He and other conservatives in the Cabinet and Parliament argued that homosexuality was "un-Indian" and that repealing Section 377 would encourage delinquent behaviour, even though it has been rarely enforced in the past decade. It also argued that this is the only law on the statute books that can be applied in cases of child abuse and male rape.
On Sunday, the cities of Delhi, Chennai and Bangalore organised gay pride marches and called for the decriminalisation of homosexuality in this deeply conservative country. The court case over the reading down of Section 377 will however only apply to Delhi.
Related articles:
-
Out of the closet, on to the streets
(HindustanTimes.com, Jun 27)
Written by Ashok Row Kavi, a veteran gay rights activist and founder-chairman of the Humsafar Trust.
-
Govt will review law against homosexuality
(DNAIndia.com, Jun 27)
-
A first for gay pride in India? Sec 377 may go
(IndiaTimes.com.com, Jun 28)
-
March for legal acceptance amid gaiety
(IndiaTimes.com, Jun 28)
-
India to repeal anti-gay law as second Gay Pride is held
(Timesonline.co.uk, Jun 29)