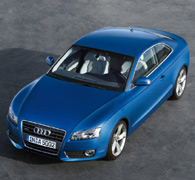 Yet another new Audi model enters the increasingly crowded Audi Showroom. However, this week's featured car could be the most significant Audi - other than the big selling SUV Q5 - to be introduced in Singapore in 2009. The German manufacturer's first diesel model: the A5 3.0 TDi quattro.
With 60% of Audi's brand new car sales in Europe being diesels, it only shows up Singapore government's slow reaction to technology advancements, among other things, ahem. Imagine the govt's attitude towards abolishing 377A: that would be not far from their approach accepting diesel engines in passenger cars.
The local authorities who are adverse to changes are still charging a special levy tax on diesel passenger cars, hence the Audi A5 3.0 TDi attracts an additional S$3,750 per annum, which means S$6,098 every year just on road taxes alone.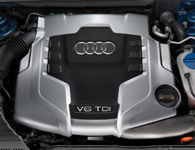 Unjustifiable financial penalties, considering the A5 3.0 TDi's low CO2 emissions of 182 g/km and a combined fuel consumption of 6.9 litres over 100 km. Figures that most petrol engines offering similar performance would struggle to match. Even the fanciful hybrid Lexus GS450H - which offers identical performance - emits more CO2 and sips more fuel.
With a century dash of 6.1 seconds and a supremely strong mid-range performance, the six-cylinder diesel engine is a marvel: with 500 Nm of torque from 1500 rpm, it makes even the mighty S5's free-revving 4.2 litre V8 motor feels that ever slightly a bit of a chore.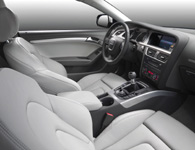 However, it must be noted that below 1500rpm, the 3.0 V6 diesel engine can feel a bit sleepy. Where this big capacity diesel finally finds its feet is playing the role of 'effortless cruiser' – munching away the miles, exactly fitting the role cast for a big coupe.
Other than an occasional tyre drone, the A5's refinement is impeccable. Even under hard acceleration only the slightest diesel chatter is audible. On start-ups, its actually hard to tell that there is a diesel motor living under the bonnet.
In the battle of dynamics supremacy, the Munich cars still have that edge. However, the Audi A5 is sharp enough for even an enthusiast to consider it. And for what looks like quite a big car, the A5 3.0 TDi possesses exceptional body control. My initial fears for a heavy diesel engine ruining the balance of the car were unfound.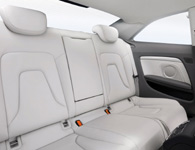 For regular readers of the Fridae Autoclub columns, it's no secret that I feel that with the A5, Audi has nailed the coupe desirability factor, both inside and out. The A5 coupe ranks among the most beautiful luxury coupes, leaving it's arch rival, the BMW 3-series coupe for dead in showroom appeal.
When it comes to making a car feel expensive and well built, Audi has a solid grasp on the concept. The interior of the A5 feels like it'll last through several spans of Madonna's career.
Spec-savvy buyers will note how lavishly the A5 3.0 TDi is equipped. Included are the wall-shifting Bang & Olufsen Sound System, Navigation system and S-line exterior package as standard. All costly but essential extras which the deceptively cheaper base model, 2.0 TFSI lacks, hence making the 3.0 TDi an even stronger buying proposition.
Until the arrival of the Mercedes Benz E-Class Coupe, Audi is peerless in this sector of the market with the A5, which is further reinforced with the introduction of the excellent 3.0 TDi.
| | |
| --- | --- |
| Engine | 2,967cc V6 Diesel with VTG Turbocharger: DOHC; TDI |
| Transmission | Six-speed tiptronic |
| Wheels Driven | Quattro (all four wheels) |
| Max. Power | 240 bhp @ 4,000-4,400 rpm |
| Max. Torque | 500 Nm @ 1,500-3,000 rpm |
| 0-100 km/h | 6.1 secs |
| Top speed | 250 km/h |
| Fuel Economy | 6.9 litres per 100 km |
| CO2 Emissions | 182 g/km |
| Dimensions (L x W x H) / Weight | 4625 mm X 1854 mm X 1372 mm / 1650 kg |
| Price with COE* | S$206,800.00 |