Having offered to conduct gender diversity workshops for bouncers and staff at a club that had asked her to leave as it did not welcome "lady boys," Leona Lo has not let up in trying to educate the public about transgender issues since the incident two years ago. The
Ah Kua Show
is Lo's latest attempt to
bring transgender issues to the forefront
. And determined to "attract attention" and take-back-the-word, Lo and director Emeric Lau decided to name the play after the most commonly used Hokkien epithet to refer to transsexuals and effeminate gay men.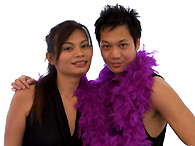 Leona Lo with director Emeric Lau (right)
The one-woman play is based on her 2007 memoir From Leonard to Leona: A Singapore Transsexual's Journey to Womanhood which was written over a course of 11 years. The book traces the major milestones in the 34-year-old PR consultant's life from suffering a nervous breakdown while performing compulsory military service, surviving a suicide attempt at 19 to using his tuition money for her sexual reassignment surgery in Bangkok in 1997 whilst she was a first year student at the University of York in the UK.
Emeric and Leona tells more about the Ah Kua Show, Singaporean men and being a transsexual in Singapore where on one hand transsexuals are able to legally marry but on the other, misconceptions and stigma abound.
Limited tickets are available on Thursday, Aug 6 while performances on Aug 7 and 8 are sold out. A matinee at 3pm on Sat, 8 Aug 09 is being considered. To indicate your interest, please email
enquiry@talksense.biz.
æ: Tell us more about what to expect at the Ah Kua Show.
Emeric: Our production highlights the main features of Leona's growing-up years - there's a lot of pain and hurt, but also joy, laughter and courage. But this is definitely not a mere pathos-laden trip! You'll find out which Singapore schools nurtured Leona, her National Service experience, her blossoming into a 'real' woman, and also challenges faced at the start of her career, and her perspective on love and romance. There's also a lot of self-reflecting going on, often with hilarious results. There is a word to sum it all up, but I won't use that word here, because Leona is using it in the play.
æ: Why did you decide to dramatise it?
Emeric: Leona's story is a truly unique one about growing up transsexual in Singapore. It needs to be told so that we have a record for posterity from a representative of an oft-overlooked minority group here. It needs to be told so that others who find themselves in similar situations as she did can be assured that they are not alone. Leona's story works theatrically because it gives her the chance to speak out directly, in the flesh, to both her supporters and those who view her as an object of curiosity, and to those who care to know more about the life of a transsexual. With Leona playing herself, both the story and story-teller is conflated - something we can't achieve outside of theatre.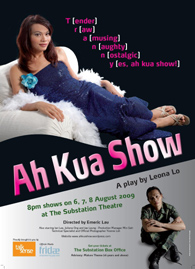 æ: I know you've probably been asked a thousand times but why the name – given it's an oft-used derogatory word used to refer to transsexuals, transvestites and gay men?
Emeric: Yes, ah kua is about the most common insult hurled at transsexuals. From a marketing point of view, we know the brazen title Ah Kua Show would surely attract attention, which is good! The title was also chosen because it is our way of re-framing a term that has a negative connotation into something positive. Ah Kua Show is a triumph of one woman's determination to go against the odds and live life on her terms - it takes strength and courage (or you can say, ironically, that it takes balls) to be an ah kua!
æ: Having worked as a corporate communications manager at a government agency and currently running your own public relations company, how well or badly informed do you think the Singaporean public of transsexuals and transsexual issues?
Leona: Largely ill informed. Apart from the occasional spurts of news in the media, there's a dearth of information on the subject. There's still such a huge stigma attached to being ah kua, I don't know where to begin. Just recently, two transgender women were allegedly humiliated by the bouncer and lady GRO at Zirca on ladies' night on 15 Jul 09. I'm still investigating the matter. Zirca still hasn't responded to me despite repeated emails. But the transgender ladies who wrote to me have also not replied to my emails for further clarification. So there's nothing much I can do. I can only help those who wish to help themselves.
æ: On one hand it seems pretty progressive that in Singapore transsexuals are recognised as their reassigned sex and are able to legally marry (someone of the opposite sex) but on the other, you say you are still being called 'bapok' or 'ah kua' by strangers. What misconceptions about transsexuals do you most often hear in Singapore?
Emeric: One common misconception is that transsexuals are all prostitutes who hang out at Orchard Towers and Changi Village, soliciting for customers with certain perverse preferences. It's similar to the thinking that gays all love rave parties where they do drugs, get naked and have sex. Just because one group within a community with certain lifestyle practices happens to be most visible at the time does not mean that their conduct applies or is representative of the whole community. We want to show that transsexuals lead responsible lives and contribute just as much as anyone else to Singapore.
æ: Are Singaporean men generally accepting of transsexuals as romantic partners? What are the biggest challenges that you face with Singaporean men compared with non-Singaporean men (and vice versa)?
Leona: Singporean men? Let's not even go there. The cute ones are mostly gay, the straight and cute ones are too short. Lol. It's neither race nor ethnicity, I believe. It's what's down there - I mean the heart.
æ: Have you found Mr Right?
Leona: No, it's up to Mr Right to find me.
æ: You have corresponded with "US army officers, professors and even corporate high fliers who felt there was no way out of their gender identity crisis." What do you think are the biggest challenges transsexuals face universally (or is there no such thing as individual circumstances differ)?
Leona: There's definitely some universality - they all feel "it's not right," and hope that there's someone out there who can prove them wrong. They are happy to chat with me because I make it seem so... natural, like it's my birth right. Amen!
æ: What do you think is the best thing someone who is questioning his or her gender identity should do?
Leona: Listen to different perspectives. Start with the established websites like
lynnconway.com
. Read positive stories. Read negative stories. Make an informed opinion based on facts and not what people think is right or wrong for you. You know yourself best.
Ah Kua Show M(16)
Date/time: Aug 6-8, 2009 / 8pm
Tickets: $25, free seating.
Student Concession: $18, free seating.Please show your student cards when collecting at the door. Concessionary rate applies to
online bookings
only
Venue tel: 6337 7535
Limited tickets are available on Thursday, Aug 6 while performances on Aug 7 and 8 are sold out. A matinee at 3pm on Sat, 8 Aug 09 is being considered. To indicate your interest, please email
enquiry@talksense.biz
.