Twenty-six-year-old Shirlyn Tan, who is currently making waves in the Singapore live entertainment scene, will be performing at a one-night-only concert on 11 July at the Recital Studio at the Esplanade. The lively rocker chick tells Fridae about how she got started hosting the monthly lesbian parties and singing professionally.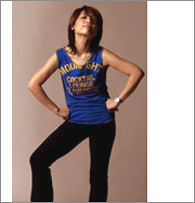 Shirlyn Tan, best known to Singapore's lesbian community for being the host of the monthly lesbian parties.
æ:
Most in the lesbian community know you as the host of the monthly Herstory parties at Velvet Underground. Tell us how you got discovered.
shirlyn: Cary (organiser of the Herstory parties) contacted me two years ago when she was planning a gig featuring female singing talents for a Herstory party. Some parties later, she thought that aside from singing & dancing - I had the potential to host the show as well, one thing lead to another and I've hosted Femme Quest 2002 and Butch Hunt 2003 since then.
æ:
How did your performance at the Esplanade come about?
shirlyn: Kuo Po, the organiser of the Late Nite Series (of which my performance is part of), called one day with the proposal after hearing that my band were doing well in Wala Wala where I've been for over a year!
æ:
How and when did you start singing professionally?
shirlyn: I've loved singing since I was a child and I used to go to places with really good live-bands. I knew I wanted to be in a band and I eventually did after getting to know some bands who were cool with letting me jam once in a while. When I was 18, I landed a small gig at Off Quay (Boat Quay) through contacts.
æ:
You typically do covers of songs by Jewel, Joni Mitchell, Avril Lavigne, Sarah McLachlan, Garbage, etc. In what ways do you relate to them?
shirlyn: I'm actually covering more songs from male singers/ songwriters/ bands these days because I would like to present how the song sounds if a woman was singing it! I relate to Jewel's debut album,
Pieces of You
, most because she put music to her poetry and she writes about people around her and she wasn't doing the pop thing. Sarah McLachlan is an amazing songwriter and I've seen her concert videos which blew me away. It's important to sing from the heart, and these women do! Recently I saw watched an old video of Joni Mitchell playing her guitar and singing "Big Yellow Taxi" and I watched how the crowd was silent & listening intently, that blew me away too... a woman with a guitar with a simple song that made everyone shut up and listen. Shirley Manson is cool… my favourite singer - image-wise - would have to be Gwen Stefani (No Doubt), she is HOT! All these women have guts; that's how I relate to them.
---
æ:
What other bands do you listen to and why?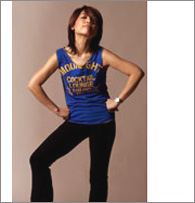 Shirlyn Tan, best known to Singapore's lesbian community for being the host of the monthly lesbian parties.
shirlyn: I listen to Radiohead, Temple of the Dog, Metallica, Suede, Dave Matthews Band... Good music, enough said.
æ:
You would also be showcasing songs you wrote at your performance at the Esplanade. What inspires you to write them?
shirlyn: My inspiration comes from the people around me, my songs could be about how I am feeling at that particular moment about someone or it could also be about something I read in the papers.
æ:
Being in the spotlight, have you been hit on a lot? How do you typically react?
shirlyn: Yeah, I've been hit on (guys & girls)... some situations are easy; I have a quick casual chat with them, shake hands, that's it. If they come on too strong and I don't like it, I'll tell them in the face.
æ:
Are there any interesting incidents worth sharing?
shirlyn: I was hit on when I was in the queue to go to the loo!
æ:
Hearts are going to get broken but pray tell, are you currently in a relationship? And what's your type of gal?
shirlyn: When I'm writing my songs I need to be alone, or around my musicians... She's gotta understand that. That's why I'm single right now. My type of gal has to be confident and independent.
æ:
You seem to have a pretty unique and quirky fashion sense. Where do you shop?
shirlyn: Can't remember when I last shopped! Here & there, I can't afford labels... I like to look out for up and coming local designers, like Sandy Er.
æ:
Other than performing at bars/pubs, where else do you hang out in your free time?
shirlyn: I hang out at home with my guitar, or I'll be at some
kopitiam
(coffeeshop) with my friends. Nowhere fancy.
æ:
What are your plans for 2003 and beyond?
shirlyn: I plan to record the songs we will be playing at the concert and sell them to as many people who will listen. Guitar playing needs improvement so I'll be spending a lot of time doing that too. I'll be looking for as many collaborations as I can for my music. And I hope to be looking for a bigger concert venue. ; )
Shirlyn performs with her band, UnXpected, on 11 July at the Recital Studio at the Esplanade; on Thursdays and Saturdays @ Wala Wala, Holland Village; and on Wednesdays and Fridays @ Balaclava, Suntec City.
Late Nite @ Esplanade: UnXpectedly Shirlyn
11 Jul 2003 (Fri), 10.30pm
Recital Studio, Esplanade
Ticketing: $21 through Sistic