A new page was opened in Hong Kong's gay history with the staging of the first ever Mr Gay Hong Kong pageant at the Lan Kwai Fong Bar on Saturday 28 November. Before a packed audience of several hundred, six out-and-proud young men competed for the title which will carry one of them forward to the worldwide competition in Oslo and the role of an international spokesman for Hong Kong's gay community.
It was an exciting night and a great beginning to what will become, it is intended, a regular fixture in Hong Kong's calendar. The bar was crowded, the décor glitzy, the music pounding and the show fast paced. It was hosted with pizzazz by RTHK's Brian Leung (of We Are Family and Gaystation Hong Kong fame, amongst much else) and Colette Koo, founder and Managing Director of Hong Kong's FINDS restaurant and Drop Bar, and, according to Brian, 'fag hag of all fag hags'. There were videos of the six boys strutting their stuff in the local bars and Ms Chiquita put in her usual raunchy appearance, announcing that she, Hong Kong's only non-lip synching drag diva with a CD issued to her name, would be putting the proceeds of the night towards her new eyelashes.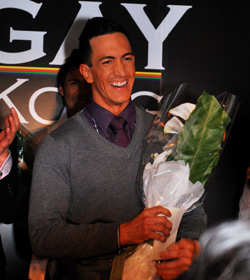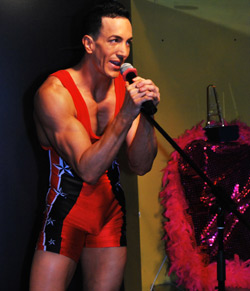 Mr Gay Hong Kong: 30-year-old American dancer Rick Twombley.
All six candidates showed their wares in swim, sports and formal wear and answered questions in front of the lively crowd. The impresarios behind the event, Noel Furrer and James Gannaban, had assembled a panel of judges from Hong Kong's gay great, good and not-so-good: Barney Cheng, the designer; Paul Hicks, PR guru and proprietor of Grebstad Hicks; Johannes Pong of Hong Kong Magazine; Francis Lo the modelling king and the ubiquitous Colette Koo. They probed the candidate's psyches with embarrassing, leading and innuendo-full questions; Johannes, for one, coming out from under his trademark hat to ask his candidate who he saw when he looked in the mirror. This was a competition for the guy with not just brawn but some brains, the presence of mind to demonstrate both and the charm to get away with it.
The panel members weren't the only judges of the day, for the public got the chance to vote for their man online and again by hand on the night (as with Hong Kong's functional constituency system, you got two votes if you were able to buy a ticket).
Four of the brave guys who entered were Hong Kong Chinese: 28-year-old Joe Leung, an officer with AIDS Concern; Jason Tang, aged 31, just back to Hong Kong from Toronto; Billy Leung, the 25-year-old hero of the court case that brought Hong Kong's gay age of consent down to 18 and an officer of Amnesty International; and Gilbert Cheng, 30 years of age and working in the hospitality industry. One candidate was Filipino, charismatic interior designer, 38-year-old Ziggy Bautista. The winner, in something of a cultural upset, proved to be candidate number six, 30-year-old American dancer Rick Twombley, who was born in Pittsburgh and bred in Grand Island, Nebraska, real farm country. He's been in Hong Kong since 2005 working as a dancer (he's skilled in both classical and modern dance), singer and acrobat, and his great stage presence helped him carry the day.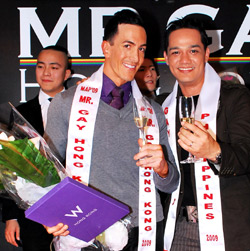 Rick Twombley with David Bosley, the reigning Mr Gay Philippines.
As did his great charm, as was evident when Rick turned to the audience for help with his final question, deferring to his boyfriend, who was sitting close by, as to whether they would bring up a child. From their joint positive answer to that question, it looks like the new Mr Gay Hong Kong and his partner may one day add parenthood to the responsibilities the title will bring Rick. This being the first of the Mr Gay series here, these are yet to be defined.
Organiser James Gannaban told me that "Noel and I are still in the process of structuring a year-long tenure for the titleholder. The title, itself, is a platform for the man who wins it, and so Rick will be instrumental in setting precedents in every way."
Rick himself told me his views of his role: "As Mr Gay Hong Kong, I will represent the cultural diversity that makes Hong Kong a truly unique and vibrant city. I will also act as an international voice for equality, promote openness, and change the perception that to be gay is to be different."
Whatever the issues which will engage Rick, he'll definitely be representing Hong Kong in Oslo in February next year, and we can look forward to seeing a good deal more of his handsome face and notable style in Hong Kong's media over the coming year.