Openly gay Crown Prince Manvendra Singh Gohil of Rajpipla in Gujarat, India and his Nepalese partner were rumoured to be the first celebrity gay couple to publicly marry on the slopes of Mount Everest early this year but the prince had to postpone his trip indefinitely due to a general strike threat issued by Maoists insurgents. The country, which sits at the base of the Himalayas, is still struggling to recover from a decade-long civil war and beset by political instability.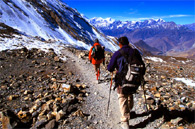 Nepal is now officially wooing gay travelers, honeymooners and couples who want to take their vows at the Everest base camp, scream newspaper headlines this week.
Working with Community Marketing Inc, a San Francisco-based gay and lesbian market research and communications firm, openly gay Nepal Member of Parliament and founder of Pink Mountain tour company Sunil Babu Pant wants to paint Mount Everest pink.
The Associated Press (AP) reports that tourism is one of the main drivers of Nepal's economy, worth about US$350 million last year, and government officials are determined to double tourism to 1 million visitors next year.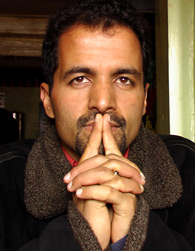 Sunil Pant, Nepal's first and only openly gay Member of Parliament, and founder of gay advocacy group Blue Diamond Society.
Nepal's tourism stakeholders are hoping that gay tourism will be "far more lucrative than the backpackers who stay in cheap hotels here and travel on shoestring budgets.
"They do have a lot of income... they are high-spending consumers," said Aditya Baral, a spokesman for the Nepal Tourism Board who was quoted by AP. "If they behave well, if they have money, we don't discriminate."
The report quotes Pant as saying that the Parliament is working on a same-sex marriage law and expects it to be ratified later this year. However, weddings between foreigners – same-sex or opposite sex - will not have any legal status even if conducted in Nepal.
In 2008, Nepal became the first country in the world to officially recognise a "third gender" with the government issuing identity cards that identify holders as such. The scheme is not targeted at gay men or lesbians but individuals whose gender identity is not aligned with his or her biological sex – such as metis, biological males who typically have a feminine orientation and physical appearance but may or may not wish to undergo sex realignment surgery.