Tens of thousands of gays, lesbians and their families and friends turned up for the Mardi Gras Fair Day on Sunday February 19. They didn't just come from the trendy inner city - most had travelled from outlying suburbs and country areas. It was well worth the journey.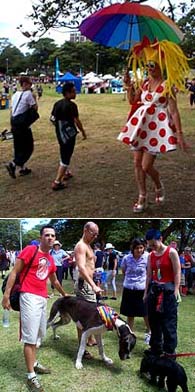 This year's events were held under stunning blue skies at Sydney's Victoria Park, just a few kilometres outside the city centre. It covered an enormous area, around the size of a city block. By mid-afternoon, the place was packed. Yet again, it exhibited the amazing diversity within Sydney's GLBT communities.
If the Mardi Gras parade is showbiz, then Fair Day is a little closer to every day life. It's part expo, part party, part Sunday stroll. It's a gay get together without too much glamour.
Rainbow flags were liberally scattered across the hilly parkland, which lies close to Sydney University and alongside the busiest road in the city. Public buses organised special services to carry the crowds and local hotels and onfield bars did a roaring trade in beer and wine.
There are scores of stalls organised by businesses and volunteer groups. These run in rows around the park and provide the impetus for the Fair Day convention of walking the field. This means navigating through the crowds and around all the attractions, browsing through the vast array of goods being touted at the stalls or signing up for petitions and various organizations.
Lined up side by side were the various political parties, such as Leather Pride, Dykes on Bikes, the Sydney Gay and Lesbian Business Association and Gay Games 2002, to name but a few.
Standing in the centre of it all was a stage where performers strutted their stuff. They included international acts American group Madison McKoy and Canadians Ember Swift as well as Australian acts. This was also the location of some extraordinary charade type games involving drag queens and the crowning of Ms and Mr Fair Day.
Typical of the smaller groups making a pitch for community support was the "Sydney Homophones". This small group of enthusiastic amateur musicians uses Fair Day as a chance to recruit new members and get their name noticed. The "Homophones" has a novel twist on one of the Fair Day staples - the fund raising raffle.
Instead of buying a ticket and taking your chance, they made you use some brainpower and guess the number of jellybeans in a jar. They also used the opportunity to entertain Fair Day goers with a couple of impromptu performances.
There are groups of friends with picnics, children of all shapes and sizes as well as plenty of dogs. Those canines have their own place in the Fair Day scheme of things. The annual dog show packed in the spectators, as always.
The heat got the better of some of the animals, but not before they had displayed obedience, fabulousness and a capacity to perform the most amazing tricks. A back-flipping dog is an amazing sight!
"Best day of the year", "fantastic to see old friends" and "why can't we do this more often" were among the comments I heard as I circled the park two or three times.
The day is also notable for attracting equal numbers of poofs and dykes and an increasing number of their children. And it's an event where the minefield of gender parity and sexual politics is forgotten for a while.
The atmosphere was as sunny as the weather. Fair Day seems to be one event where Sydney's often intensely critical gays and lesbians agree there is no need to change a simple, winning format.
This Fair Day went like a dream - a triumph for its organisers and the huge band of volunteers who made sure everything fell into place.