"Bigger and better than ever." That's how organisers of Sydney's Mardi Gras Film Festival saw this year's event, which had broken all records.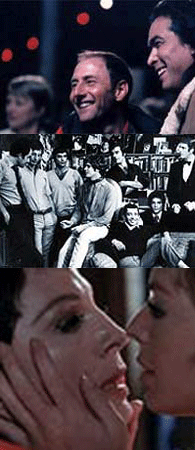 From top, scenes from Big Eden, Boys in the Band and The Killing of Sister George
It had been exhausting couple of weeks both for filmgoers and the fifty strong group of volunteer who make the event run like clockwork. "More than 170 movies were screened over a two week period, and we estimate more than 22,000 people had paid to see them", says festival director Richard King.
King led the team at Queer Screen who spent months putting together a varied program catering for gay, lesbian and crossover audiences.
Opening night on Valentines Day featured the good-natured romantic comedy
Big Eden
directed by American Thomas Bezucha. Sydney's ornate State Theatre played host for a tale of a city boy seeking his country roots in Montana. The audience warmed to the multi-layered telling of a familiar story, which at times became more fantasy than real life. Also showing at the opening was
Bare
an Australian made short feature about two boys, two girls and some accidental voyeurism.
So started '2001 - a queer odyssey', which featured pink tinged cinema from all over the world. Spanish and Latin American movies were a special feature along with a healthy slate of experimental work.
Gay movie making may be flourishing, but the news isn't so good for the women. "It's disappointing to see how few good lesbian features emerge each year", says Richard King. He singled out the American produced
Chutney Popcorn
, directed and starring Nisha Ganatra, and Hard Love as well worth a look.
The mix is important to the success of the festival. Solid drama, feel-good comedies and plenty of documentaries is a tried and tested formula. This year a collection of classics was added.
Lesbian classic
The Killing of Sister George (UK, 1968)
and the gay groundbreakers
Boys in the Band (US, 1970)
and
Victim (UK, 1961)
were headliners in the 'lavender classics' section of the program. The sexual landscape may have changed since these films were made in the 1960s, but some of the themes were still striking chords among the 2001 audience.
The festival isn't just an inner-city queer event. Organisers deliberately took it to Sydney's western suburbs, with a weekend of the cinematic creme de la creme at the art deco Roxy Cinema in Parramatta.
Putting the festival together is always a challenge. "It's often very difficult and very expensive to get the films we want", says Richard King.
The response from audiences packing the festival's home base, Paddington's Academy Twin, was overwhelmingly positive. That's not surprising as Queer Screen makes a special effort to poll moviegoers each year to find out what they want.
The festival was a huge success. At least six films got repeat screenings. The appetite of Sydney's gays and lesbians for movies reflecting their lives and experiences is almost overwhelming.