Twenty-eight cyclists cycled 900km over 5 1/2 days from Kota Baru in the northeast of Malaysia to Singapore to raise funds and awareness of HIV/AIDS in Singapore.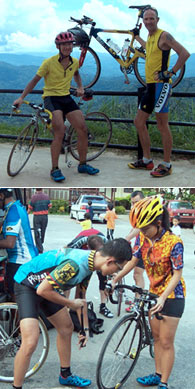 The cyclists including Singapore's Mount Everest mountaineer Khoo Swee Chiow arrived at the Welcome Rally held in Singapore's city centre around midday on June 10.
Organised by Action for AIDS (AFA), the event called Riding for Life 2001 raised $50,000 to lighten the financial burden faced by people with HIV and AIDS (PWAs).
Almost a thousand people in Singapore are living with HIV/AIDS.
AFA, Singapore's only AIDS advocacy group is responsible for organising education campaigns as well as providing support and assistance for patients with AIDS.
The AIDS Medicines Fund was set up two years ago to help PWAs meet their costly drug bills. The drugs which are used to prolong life and hold off further damage to their immune systems are not subsidised by the Government and can cost up to S$2,000 a month.
Each cyclist had to raise at least $1,500 for the fund to take part.
The first charity bike ride, which raised S$45,000 was held in 1999 and involved 25 riders who rode from Penang to Singapore.
AFA is still accepting donations, cheques should be made out to "Action for AIDS, Singapore" and mailed to DSC Clinic, Blk 31 Kelantan Lane, Singapore 200031. AFA can be contacted at
afa@pacific.net.sg
.