IndigNation - comprising seven events including Singapore's first quarterly forum to discuss issues relevant to Singaporean gay and lesbians as well as talks on same-sex love in classical Chinese literature, history of gay venues in the city-state in the last two decades and a forum on sex pertaining to the gay Christian individual - will be held from Jul 28 till Aug 26.

Other events include an art exhibition by Martin Loh, an openly gay artist known for his male erotic and Peranakan paintings, a poetry reading by gay poets and a party organised by Adlus - a GLBT outdoors and sports group celebrating its sixth anniversary.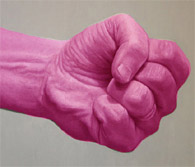 Although there is no official committee organising the month long festival, each individual event is organised by activist PLU3 Working Group, gay affirmative Christian fellowship group, Safehaven; gay sports group, Adlus; as well individuals of the gay community including Dr Tan Chong Kee; activist and academic Dr Russell Heng, artist Martin Loh and poet Dominic Chua.
Dr Heng, who is presenting a talk entitled "Where Queens Ruled! A History of Gay Venues in Singapore" on Aug 16, hopes for the series of events to communicate to the local authorities that the gay community will not go away because a party is cancelled. He is referring to the annual Nation party organised by Fridae, which was cancelled this year after being successfully held in the country for the past four years.
He told Fridae that he hopes for the events to communicate to gay Singaporeans to "never say die" as "the advances made by the gay community was not gained by the silent wringing of hands" and "to register the point that the gay community has resources it can mobilise."
The PLU3 Working Group will also launch their inaugural Quarterly Forum in August. Alex Au, co-founder of People Like Us, the only gay activist group in Singapore, will chair a forum on Aug 23 discussing issues about Singapore from a gay perspective.
The questions to be discussed include: Do gay and lesbian people have anything to say to the nation apart from gay rights? How does a lesbian or gay person view nationhood and the issues that affect Singaporeans? Does being gay or lesbian give them a different take on the issues that burn our Singaporean hearts?
In 2000, the authorities rejected an application by Au to hold a forum on gay issues. Last year, the authorities amended a ruling that requires organisers of indoor talks and forums to apply for a licence.
Publicity material for the forum emphasised what the event is - and is not. "This is not a forum about being gay. It's not a forum about holding a gay parade. It's a forum about being Singaporean and what gays and lesbians have to say about nationhood in matters important to both straight and gay people. It is about building a place we can call home."
In an interview with Fridae, Au said that he hopes for the forum to include straight speakers in the future, with the aim of having an open dialogue about sexual minorities and society with other members of society.
Civil activist and founder of the famed but now-defunct Singapore Internet Community (SinterCom), Dr Tan Chong Kee, who has also conducted extensive research into Chinese civilisation, will challenge the notion that same-sex love is contrary to Asian culture and that homosexuality is a western-import. The talk, which will be delivered in Mandarin, will trace and explore various ancient classical Chinese texts on same-sex love to demonstrate that same-sex love has been an integral part and parcel of Asian life.
The schedule of events, which is subject to change, is available on the next page.
---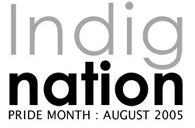 IndigNation
"This year, there'll be no Nation Party in Singapore. Instead, there'll be IndigNation, a collection of events to celebrate Pride Month.
"IndigNation is a gay community response to the unreasonable ban on parties for gays and lesbians and heavy censorship of publications serving this community. The events in the IndigNation calendar are contributed by various organisers to Singapore's Pride Month. It is a demonstration of the initiative and spirit of grass-roots civil society that the authorities say they want to encourage, but then go out of their way to suppress."
Please visit
http://www.plu.sg
for the latest updates.
If you have an event in August 2005 that you would like to add to the IndigNation calendar, please contact
charles_tan77@yahoo.com.sg
.