Speaking in response to a reporter's question at a 50-minute Q&A session at the Foreign Correspondents Association which touched on terrorism issues and local issues, Prime Minister Lee Hsien Loong rejected suggestions that the government is homophobic for prohibiting gay events such as the annual Nation party organised by Fridae.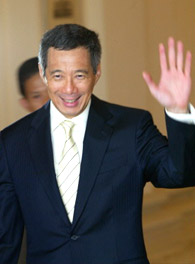 Singapore PM Lee Hsien Loong
According to the Singapore
Straits Times
, a
Time
magazine journalist who said that the Singapore Government gives "every impression of being somewhat homophobic," asked PM Lee about how he felt about gays.
"I don't think we're homophobic. I agree that homosexuals are people like you and me." PM Lee said on Thursday.
In a 2003 article in
Time
(Asia), Senior Minister and former PM Goh Chok Tong said, "We are born this way and they are born that way, but they are like you and me." At the time, SM Goh revealed that the government had lifted its ban which previously prevented men who are openly gay from being posted to combat units or hold "sensitive" positions in the military and civil service. Same-sex acts are however still illegal under the Singapore Penal Code.
PM Lee however pointed out that the government's need to be aware that "there are some segments of Singaporeans who may even disagree with that (homosexuals are people like you and me)."
He added that those are among the factors the Government must take into account when gay groups want to "flaunt (their) gayness" through parades and parties like the Nation.05, reported Singapore's
Today
newspaper.
Explaining why gay parades and events are prohibited, PM Lee said that the government must remain sensitive to those who condemn homosexuality.
"I think it would be offensive to a large number of Singaporeans and will be very divisive. And I think from a government's point of view therefore, it is not a wise thing to do," he said.
"How do we provide the maximum space without it becoming intrusive and oppressive on the rest of the population and without causing a backlash which will lead to polarisation and animosity?
"There will be those who say this is wrong, it's a sin, not just a
crime but a sin, stop it.
"Therefore, it's a dynamic balance and one which we'll have to manage very carefully."
It is however unclear how the gay community has intruded and oppressed the rest of the population when it is in fact the gay community which has been prohibited from associating such as at a gay event, or forming an official and legal society. The Singapore Registrar of Societies had twice rejected gay advocacy group, People Like Us' (PLU) application to register a society - first in 1997 and again in 2004.
In a statement issued by PLU on Friday evening, the group disagreed with the PM that "managing backlash and divisiveness should be via placing restrictions and unjust laws against lesbian and gay Singaporeans."
The group called on the government to adopt a similar principle regarding sexual orientation as it does with regard to maintaining racial harmony by frowning on racist speech and according equal rights to people all races.
The statement also highlighted the PM's comments, which referred to people who objected to homosexuality as a "sin," and urged the government to not make policies based on certain religious beliefs in a multi-racial society like Singapore.
Earlier this year, Singapore authorities banned the fifth annual Nation party, which attracted 8,000 attendees and held over the country's National Day weekend in August last year, citing the event to be "contrary to public interest."
The Nation.V party will be held in Phuket, Thailand, from Nov 4-6 and involve for the first time acclaimed party co-hosts including Hong Kong's HX Production and Cocktail, Malaysia's Liquid, Japan's AgeHa, and Taiwan's G5, Wonderland and FollowMe.