In less than five years, Royston Tan has shot from being an ultra-cool short-filmmaker known only to serious film buffs, to a controversial feature director known by almost everyone in Singapore. His dynamic visual style perfectly embodies the fast, urban and materialistic lifestyle in Singapore. But his narratives often center on those frustrated by the paper chase or left behind in rat race.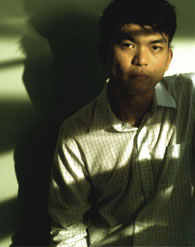 ''I regret the fact that there are so many derogatory labels attached to same-sex relationships. Sometimes our basic need is simply to hug and touch another person. If the word 'homosexual' didn't exist, would straight men be more forthcoming about showing affection to one another?'' Ponders Royston Tan who is now working on a gay film.
His debut film
15
was mired in controversy when the censors insisted that he made cuts to the picture (the number of cuts is anywhere between four and 24, depending on whom you speak to). But he lashed back by making an incendiary short film called
Cut
that mocked the censors.
Royston's new feature film,
4:30
, sees him moving away from the hip and brash aesthetics which he is known for. It is a quiet and contemplative film about a lonely young boy (Xiao Li Yuan) who becomes obsessed with a handsome and hermetic Korean man (Kim Young Jun).
Compared to
15
,
4:30
is much slower and gentler, but no less hypnotic to watch. There is very little dialogue in the entire movie, but the long passages of silence lyrically convey the pain and loneliness of the two characters. Once again, general audiences may find it difficult to understand and appreciate Royston's enigmatic gem. But for critics, filmmakers and cineastes,
4:30
will only give them more reasons to revere him.
Royston speaks to Fridae about
4:30
, his plans to make a gay film and what he once did to his crushee.
æ: Your two feature films, 15 and 4:30, aren't gay per se. But they do revolve exclusively around male-to-male relationships. There's also a notable absence of female characters...
Royston: I think the best kind of intimate relationships are those between friends, regardless of gender. And so in
15
, the ah bengs (street kids) develop strong and intimate ties with each other because they have no one else to turn to. Likewise, in
4:30
, the boy and the man turn to each other because they're so lonely.
I regret the fact that there are so many derogatory labels attached to same-sex relationships. Sometimes our basic need is simply to hug and touch another person. If the word "homosexual" didn't exist, would straight men be more forthcoming about showing affection to one another?
When I was shooting
15
, these real-life street urchins asked me if I could shoot a scene where they would watch pornography and masturbate one another. I asked them, "Don't you think that would look gay?" They replied, "No leh." For these boys, it's a form of intimacy between friends. It carries no homoerotic charge.
æ: Do you think you would ever make a completely gay film?
Royston: Actually, there's one in the pipeline. I'm working on a gay script right now, which may or may not be inspired by Alfian Sa'at gay plays
Asian Boys Vol 1
and
Vol 2
. Alfian basically passed me a copy of his plays and told me to borrow or steal anything I want from them. But I haven't had time to read them.
The film will be like
15
- visually dynamic, fast-paced, MTV-style editing. Yet somehow more lyrical and tender. It might be made sometime next year, or the year after that. My schedule is pretty packed right now.
æ: That's fantastic news! Do you think you'll ever make a film about women?
Royston: It's funny that you should ask that. I'm actually working on a film with about women right now but I'm not allowed to talk about it for contractual reasons. See, the reason why I haven't really dealt with women characters in my films so far is because I don't completely understand them. Women are so much more complex than men. Men are pretty shallow - we have two or three layers at most. Women, on the other hand, have many layers. But I've finally found the confidence to tackle them as subjects. In fact, when my fans write to me and ask me to make films about specific topics, their top two requests are (1) a film on
ah lians
(street girls) and (2) a film on gays.
---

Royston Tan's 4:30 is a quiet and contemplative film about a lonely young boy who becomes obsessed with a handsome and hermetic Korean man.
æ: Do you have a lot female and gay fans?
Royston: I do have a group of female fans who cut out any article in the papers or magazines they find on me and post it on their websites. Once I was in a swimming pool and one of them snapped me in my swimming trunks using her handphone. The picture then got circulated on the Net. So
paiseh
(meaning embarrassing in Hokkien)! I don't know about gay men. If they like me, they never tell me.
æ: Actually, I know a few gay men who think you're cute. One of them says you have the face of a manga (Japanese comic) hero.
Royston: Really? Hmm...
æ: Yeah, really... Anyway, in your new film 4:30, the boy becomes so obsessed with the older man that he breaks into the latter's room and collects his stray pubic hair. What was the craziest thing you ever did for someone you were obsessed with?
Royston: In my Temasek Poly days, I was crazy about someone whom I'll call X. X had everything - face, body, popularity, clothes. X also had a favorite shirt that would be worn every week. So on our graduation day, I stole X's shirt when X was drunk. X went totally berserk, had a complete mental breakdown. For many years, I kept the shirt that had the smell of X. Then one day, my domestic helper accidentally washed it. I was so angry. The whole incident became the inspiration for my short film called Jesses, which is included in my collection of short films on DVD. (Called
Royston's Shorts
, the DVD is on sale at good music and bookstores.)
æ: Maybe I should shoplift in Prada on the pretext I'll make films about the brand. Are there things about you that the public misunderstands?
Royston: A lot of people seem to think that I'm arrogant. When I don't smile, I can look quite fierce because my eyebrows are so bushy. Whenever I go clubbing, no one really makes a pass at me because they think I'm proud. But really, when you get to know me, you'll realise that I'm very down-to-earth...
æ: People also think that you're a magnet for controversy...
Royston: I don't go out of my way to attract controversy, but when the censors insisted on so many cuts in
15
, I had to fight back. They bit me, so I had to bite back. But I think I do it more out of self-defence. I really am a simple guy.
æ: How do you stay sane and grounded, considering that your life has changed so much since the debut of 15 in 2003?
Royston: Well, for one thing, I try to avoid the glamorous events that I normally get invited to. I prefer to spend my time at coffee shops talking to uncles and aunties. They have a lot to say about people and life.
I also give free crash courses in filmmaking at neighborhood schools. Usually, I ask the principal to assemble 20 of the naughtiest kids, and I'll teach them to appreciate mood and colors in images. At the end of the course, we'll shoot a film together.
æ: That's very inspirational. Has Hollywood or Hong Kong come a-knocking?
Royston: Brad Pitt's production company Plan B has approached me, and Andy Lau's company also approached me to make a film under its First Cuts showcase. We're in discussion over possibility of me collaborating with Karen Mok. But Karen, as you can imagine, is busy so we have to look into her schedule first.
æ: A few final questions: Who or what turns you on?
Royston: Someone who is comfortable in his own skin.
æ: What's the most important thing in a relationship?
Royston: The ability to forgive your partner's transgressions, even if he or she cheats on you. The ability to still believe in the relationship when it's going through a rough patch. We're only human.
æ: Your biggest fantasy?
Royston: That I was married into the Thai royal family, so that on my wedding day, I would ride on a white elephant accompanied by a thousand maidens and there'd be fireworks in the night sky.
æ: Your biggest guilty pleasure?
Royston: I love Hokkien
mee
(noodles) with lots of pork lard. When I'm very stressed out, I tell the uncle, "Uncle, extra pork lard, pleeeeaase!"
Well, Fridae certainly hopes you'll be eating Hokkien
mee
with extra pork lard and Karen Mok next to you someday.
4:30 is showing in the cinemas. Royston's Shorts DVD is on sale at HMV, Kinokuniya, Gramophone and other good book and music stores.