Following the federal government threats to quash any legislation that resembled traditional marriage, the long awaited-reform to allow same-sex couples to inherit each other's superannuation or pension could be delayed until after their proposed July 1 start date.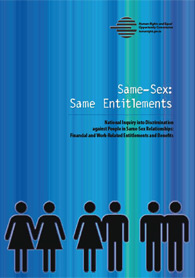 Download Human Rights and Equal Opportunity Commission's Community Guide to the National Inquiry into Discrimination against People in Same-Sex Relationships: Financial and Work-Related Entitlements and Benefits in Australia. Link provided at the bottom of the page.
The proposed Same-Sex Relationships (Equal Treatment in Commonwealth Laws - Superannuation) Bill 2008 introduced by Attorney-General Robert McClelland last month is now facing a Senate inquiry to consider whether other forms of interdependent relationships such as carers or adult siblings should also be included.
According to
The Age
newspaper, the Coalition's shadow cabinet will debate the issue today and at the parliamentary weekly meeting of all Coalition MPs on Tuesday.
McClelland says he wants the laws passed before Parliament rises on June 26, to take effect from the start of the new financial year.
Under the proposed bill, same-sex partners will be entitled to receive the payment of death benefits from superannuation schemes or the tax concessions on death benefits currently made available to opposite-sex couples.
The legislation, which Labor promised before the election, is expected to remove discrimination against gay couples in about 100 areas of Commonwealth law.
"In keeping with the Government's election commitment, the changes do not alter marriage laws," McClelland said. "They will make a practical difference to the everyday lives of a group of our fellow Australians who have suffered discrimination under Commonwealth laws for far too long."
In May, the Australian Capital Territory passed the civil partnership laws, a watered down version of the territory's plan to allow gay couples to formalise their relationships through civil ceremonies.
The ACT was forced to axe part of the bill after the federal government argued a legally recognised ceremony was too similar to a wedding, and threatened to use its constitutional powers to overturn the proposed law unless it was amended.