Revolving around a family of youths - in the form of androgynous or masculine-presenting females - who come together in the wild, this inventive photographic series by Genevieve Chua presents a new, fantastical spin on the awkwardness of adolescence and the hunt for familial ties, and answers.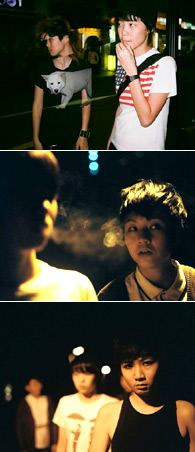 Referring to them as 'wolves', the 24-year-old Lasalle College of the Arts graduate says she started documenting her subjects, whom she had met on the streets, through blogs or friends, over a period of two years.
Raised as a Pack of Wolves
forms the third chapter of a longer narrative which explores the discovery of one's sexuality and the journey towards calling oneself gay or lesbian, and the security a 'pack' provides each member.
Fridae speaks to the woman behind the lens.
æ: How did you arrive at the idea for this series?
Genevieve: I've always wanted to do something related to youths, specifically adolescent females. It's a subject that is seldom discussed or too complicated to approach. To most people, adolescence is just an awkward stage between being young and being an adult, but the word's origins refer to the growth
toward
maturity. That transition is something everyone can relate to, in a multitude of ways.
æ: Why androgynous females?
The wolves in my story were simply imagined with the physical characteristics of androgynous females, but the real gender of these 'wolves' is not apparent. In the story the 'wolf spirits' possess the bodies of these young bodies so as to evade notice.
æ: It appears that the story you're trying to tell is more fantasy than documentary, as if you were you trying to create some kind of myth.
Genevieve: It's true. I started documenting these groups of 'wolves' from two years ago. My photographs and reflections were substantial enough for anyone to grasp, but I was looking for an after taste, something more.
I began writing a story based on my observations, and
Raised as a Pack of Wolves
is actually the third chapter of a longer narrative. What you see here is the beginning of a series of events. It's an exploration of how they survive, live, and play. Presently, I am one-third into the next chapter, where new 'wolves' and other characters will begin to appear as the story evolves.
æ: Where did you find your subjects, and were you looking for any particular qualities, aside from androgyny?
Genevieve: I found the first few subjects online, through blogs, and then through their friends, and their friends' friends. While I am particular about casting, there was no 'queer criterion'. I picked those who were more inward, and more at ease with themselves. They tend to be more conscious of where they are, but they don't try to stand out or fit in. You know a wolf when you see one.
æ: How did you direct the photo shoots?
I drew a storyboard with stickmen and smiley faces and showed it to them for them to replicate the scenes. That was my method of direction.
I'm not that much older than my subjects. I'm 24 and the youngest was 16. As much as I tried to recall what it was like when I was their age, I found gaps in my memory. It was interesting to build a sort of collective memory, from their stories and my own reflections.
æ: Storytelling aside, this series undoubtedly draws attention to a very visible subset of queer women.
Genevieve: One of the reasons why I started this project was because I wanted my work to offer some kind of affirmation to these youths. Some people are quick to associate my work with queer women's politics, but I think it's really about being young and queer - about discovering one's sexuality, how daunting it is to call oneself gay or lesbian, and the uncertainty of it all. In spite of this, there's that ease these girls have when they're with 'their own'.
æ: That idea of a 'pack', or 'tribe', or 'community' certainly fits with the theme of this year's Fringe Fest, 'Art and Family'. They are variations of the same. So what does 'family' mean to you?
Genevieve: In the process of looking for these wolves, I've learnt that a family of friends can change over time. Sometimes this shift is required in order to for one to grow up or grow out of old ways. Only blood family can never be changed.
æ: What's next for you?
Genevieve: I will reveal my next chapter in 2010, but in the meantime, viewers who are interested in seeing large format prints of
Raised as a Pack of Wolves
will be able to do so at ''CUT: New Photography from Southeast Asia', which will tour Kuala Lumpur, Singapore, and Manila. Details will be up on
raisedasapackofwolves.com/diary
.
Raised as a Pack of Wolves
is on show permanently at raisedasapackofwolves.com.