May 19 was Second Lieutenant Sandy Tsao's (top, left) last day in the US Army. She is one of 12,500 women and men who have been forced to leave the US military under the "Don't Ask, Don't Tell" (DADT) policy since it was implemented in 1994, according to the Servicemembers Legal Defense Network, a group leading the fight to change the law.

In January, Tsao, a 24-year-old Chinese American army officer based out of St. Louis, Missouri, told her superiors that she is gay - a violation of the DADT policy.

Tsao then wrote to President Barack Obama, urging him to change the DADT policy. Excerpts of her letter were reproduced on the Gay & Lesbian Alliance Against Defamation (GLAAD) web site: "Today is Chinese New Year day. I hope it will bring good fortune to you and your newly elected office. Today is also the day I inform my chain of command of who I am. One of the seven army values is integrity. It means choosing to do the right thing no matter what the consequences may be. As a Christian, this also means living an honest life.

"I have fought and overcome many barriers to arrive at the point I am at today. This is the only battle I fear I may lose. Even if it is too late for me, I do hope, Mr President, that you will help us to win the war against prejudice so that future generations will continue to work together and fight for our freedoms regardless of race, color, gender, religion, national origin or sexual orientation." Said Tsao who described her role in the military as her number one dream job.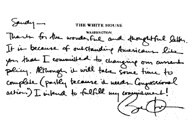 On May 5, Tsao received a handwritten note from President Barack Obama who said he is committed to repeal DADT.
He wrote: "Sandy - Thanks for the wonderful and thoughtful letter. It is because of outstanding Americans like you that I committed to changing our current policy. Although it will take some time to complete (partly because it needs Congressional action) I intend to fulfill my commitment. - Barack Obama."
US Army Lieutenant
Dan Choi
, who came out on Mar 19 on MSNBC's
The (Rachael) Maddow Show
, has also been discharged from the National Guard. He was on the show to talk about Knights Out, a support group launched the same month for US Military Academy active duty alumni and cadets. According to ABC News, of the group's 97 members, 59 of whom are out, and Choi is the only member on active duty.
In a letter to the president, Choi, an Arabic language specialist, said the discharge letter, dated April 23, 2009, was "a slap in the face to me. It is a slap in the face to my soldiers, peers and leaders who have demonstrated that an infantry unit can be professional enough to accept diversity, to accept capable leaders, to accept skilled soldiers.
"My subordinates know I'm gay. They don't care. They are professional.
"As an infantry officer, I am not accustomed to begging. But I beg you today: Do not fire me," Choi wrote.
Choi told ABCNews.com that he had stayed silent for nearly 10 years and had never confided about his sexuality to anyone in the army. But in 2008, he said he found the man he describes as his first love, and that relationship spurred his decision to come out.
He added that staying in the closet "traumatises people in a way... Number one, I'm taught the honor code at West Point: do not lie. Units are based on honor code. But 'Don't Ask Don't Tell' says you have to lie. It forces people to lie, to hide. Hiding and lying aren't army values."
Choi, a founding member of Knights Out, said he receives hundreds of e-mails every day from people looking for support, or simply thanking him.
"People are saying, 'I'm in Iraq right now and I got kicked out' or 'I'm in Afghanistan' or 'I'm at West Point right now and keep going because we need to know there are other people out there,'" Choi said. "One said he wanted to commit suicide, but 'Now I know there is someone else.' That's the main reason why I cannot stay quiet."
The Korean-American will be a celebrity grand marshal in the San Francisco LGBT Pride Parade Sunday, June 28.
As of Tuesday, May 19, over 131,000 have signed a petition organised by the Courage Campaign to stop the discharge of Choi and any other soldier as a result of the DADT policy.
The latest service member to speak to the media about being discharged under DADT is Lieutenant Colonel
Victor J. Fehrenbach
, a F-15 fighter pilot and 18-year veteran of the Air Force. He has received nine air medals including one for heroism and estimates that the US has spent US$25 million training and equipping him. It is not known
Fehrenbach told Rachel Maddow of
The Maddow Show
on Tuesday that he had originally wanted a "quick, quiet, fair, honorable discharge" but later decided to fight it. He and his lawyer have tried to put off his appeal for as long as possible expecting President Obama to follow through on his commitment to end DADT.
"But the more I thought about it, about how wrong this policy is, I thought that I had to fight it and perhaps with my unique perspective I could speak out and help other people in the mean time," Fehrenbach said on the show.
"Don't Ask Don't Tell" was introduced under the Clinton administration in 1993 as a compromise between openly gay people serving in the armed forces and those opposed to gays in uniform.
Gay service members are allowed to serve unless "manifested by homosexual conduct." Policy guidelines define "homosexual conduct" as "a homosexual act, a statement that the member is homosexual or bisexual, or a marriage or attempted marriage to someone of the same gender."
Since then, according to the most recent numbers released by the Pentagon, 12,500 service members have been dismissed because of their sexuality.
The Pentagon on May 19 said it has no plans to repeal the "Don't Ask, Don't Tell" policy for gay troops. Pentagon spokesman Geoff Morrell said on Tuesday, "I do not believe there are any plans under way in this building for some expected, but not articulated, anticipation that don't ask-don't tell will be repealed."