Talkshow host Ellen DeGeneres appeared on The Oprah Show last week alongside wife Portia de Rossi and discussed everything from how she and de Rossi met, getting married and marriage equality.
The pair married in August 2008 during the brief period same-sex marriage was legal in California.
"I feel very fortunate, very lucky that I found that connection," DeGeneres said of her wife, calling her "the smartest, kindest, most wonderful woman that you'll ever, ever know."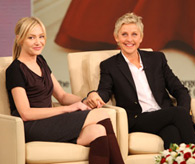 Portia de Rossi and Ellen DeGeneres (right)
"[Marriage is] a legal stamp of validity. It's hard to know it feels until it happens," de Rossi told Oprah.
"I hope everyone gets to have that feeling. The thing about being a gay couple is that, in the past, you referred to your wife and there were quotation marks around it and people could snicker about it. Now, it's fact, it's law - she's my wife. I get to say she's my wife and it's a fact."
The Australian actress said on the show that she knew DeGeneres was the one for her when she first met her.
"But it took me three years to actually tell her how I felt about her, because I was on Ally McBeal at the time and wasn't living as an openly gay person," de Rossi said. "I was closeted and very, very afraid that if I talked about being gay it would be the end of my career. So I wasn't about to date the most famous lesbian in the world."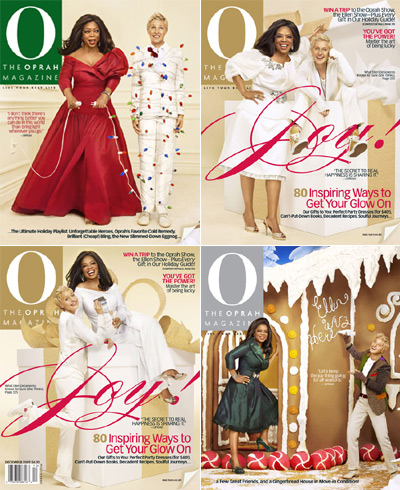 In the December issue of O: The Oprah Magazine, DeGeneres, 51, tells Oprah Winfrey that she and Portia, 36, "are perfect for each other." Four magazine covers are available, and see Ellen's hilarious mock-covers she created before the shoot and photos from behind the scenes of the cover shoot.