The following is an excerpt from "Philippine gay group fights to contest elections" by Oliver Teves for Associated Press (AP). For the full article, follow the link at the end of the page.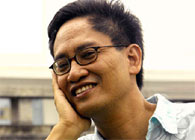 Danton Remoto, head of gay group Ang
A Philippine gay rights group is waging a legal battle to be allowed to run in next year's polls after the Elections Commission ruled it cannot register as a political party on grounds that it advocates immorality.
The decision last week against Ang Ladlad (Out of the Closet), a group representing lesbians, gays, bisexuals and transgenders, sent shock waves through the gay community.
In issuing its decision, the commission said the group "tolerates immorality which offends religious beliefs" and exposes young people to "an environment that does not conform to the teachings of our faith." The ruling cited passages from the Bible and the Quran condemning homosexuality.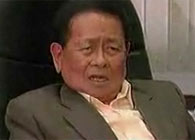 Commission on Elections (Comelec) commissioner Nicodemo Ferrer, head of the poll body's Second Division, says he will not apologise. "Why should I apologise? I'm not crazy, they should be the ones to apologise because they do not understand the resolution."
Homosexuals are generally accepted in the Philippines, despite the dominant Roman Catholic religion's rejection of same-sex relations.